5 myths busted: Why your police department can afford a rugged PC upgrade
If you think rugged hardware with top-notch processing power is out of reach for your agency, here's a handful of reasons to think again
---
Sponsored by Dell
By Police1 BrandFocus Staff
Rugged computers are necessary tools for modern law enforcement agencies. They bring the department's full range of data resources right into patrol cars, and onto the tablets toted by officers on foot.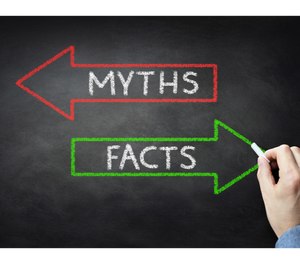 Unfortunately, many police departments are still not enjoying the full benefits of rugged computing, because they believe they can't get the necessary ruggedness and connectivity in an affordable package.
Thanks to advances in computing technology, every department can have access to the full power of rugged laptops and tablets. Here we dispel five key misconceptions about ruggedness, affordability and connectivity in the tech tools available for police and public safety today.
MYTH 1: WE CAN'T GET A TOP PROCESSOR IN A RUGGED PACKAGE
In the past, getting a laptop or tablet that was truly rugged enough for police work too often meant a tradeoff in performance. This isn't necessarily true.
Look for rugged computing products from a global Tier One original equipment manufacturer that offers a complete range of computing products – like Dell – that has a proven track record and the buying power to consistently access top processors. Dell's rugged laptops and tablets all feature high-performance processors, and they are purpose-built to withstand rough use while maintaining the highest level of security, performance and manageability.

MYTH 2: RUGGED DEVICES DON'T GET ALONG WITH ADMINISTRATIVE TECH
Rugged laptops and tablets can have problems working compatibly with a police department's administrative technology (desktop PCs and servers) for a very simple reason: Most rugged tech suppliers do not usually build desktops or servers, and hence are not focused on ensuring seamless interoperability with them.
This is why you should consider buying rugged laptops and tablets from a supplier that also makes desktop PCs and servers. This allows you to harmonize your department's entire computer system using a single OEM, which maximizes interoperability and minimizes issues for IT staff.
MYTH 3: WE CAN'T AFFORD IT
Affordability can put the kibosh on much-needed police technology purchases. The need is real, and the right equipment exists to solve the problem. All that is missing is the money.
Don't let dollars get in the way of getting the equipment your department needs to serve the public and stay safe. When purchasing rugged equipment, look for a supplier that offers flexible financing options
For example, Dell, one of the world's Big Three computer manufacturers, offers financing options to help law enforcement agencies purchase the equipment they need on a payment schedule they can afford. Dell Financial Services can support departments with leases and other financing terms to ensure that the technology they are buying fits into your budget, whatever it may be.
MYTH 4: 'RUGGED TECH' ISN'T ALWAYS ACTUALLY RUGGED
When it comes to law enforcement products, everyone makes big claims. So how can a police department be sure that their rugged tech is actually rugged?
The answer is to look for rugged laptops and tablets certified to meet rigorous MIL-STD-810G and Ingress Protection standards. These certifications guarantee a product's resistance to drops, dust, water and other potential hazards, based on measurements by independent third-party testing firms.
For example, to meet the MIL-STD-810G standards, Dell rugged laptops and tablets have been built to survive numerous up to 6-foot drops to the ground during operations, with additional resistance to altitude extremes, blowing dust, functional shock, humidity, altitude, thermal extremes and vibrations. The Ingress Protection certification means they are protected against dust and splashing water from any direction. All of these claims have been certified by third-party testers.
MYTH 5: IT'S TOO HARD TO CONNECT RUGGED TECH TO FIRSTNET
Wireless broadband connectivity is an absolute must for today's law enforcement agencies. So when you buy rugged laptops and tablets, you need to know that these devices will connect easily to FirstNet and other public safety-centric wireless data services.
Look for a supplier that will help get your department get connected to FirstNet or the provider of your choice. They should have the know-how to assess your agency's specific data transfer requirements, interact with FirstNet or other wireless platforms to set up the necessary connections and then implement the overall system and troubleshoot to make sure it works.
Dell offers assistance in setting up public safety customers, and its "FirstNet Ready" rugged laptops and tablets, as well as select commercial grade Dell laptops, are among those specifically cited by FirstNet as recommended equipment purchases.
It is now possible for law enforcement agencies of all sizes to afford rugged laptops and tablets that are capable, compatible, affordable, military-tough and easily connected to FirstNet (and other broadband networks). Don't let the common misconceptions described above stop your agency from getting the tech tools you need.
Visit Dell for more information.
Read Next: Be ready to take FirstNet Into the field

Request information from Dell
Thank You!