PRESS RELEASE
Getac B360 review
---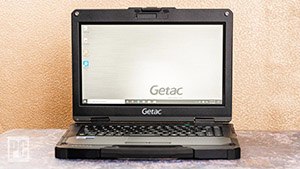 The Getac B360 is a winner among rugged laptops for providing full protection in a relatively compact package, a display that works indoors and out, hot-swappable batteries, and a best-in-class warranty.
The trade-off with any laptop built for extreme conditions in the field is ruggedness versus usability, where you are forced to sacrifice practicality or performance for the ability to survive extreme environmental hazards. With myriad MIL-STD and waterproof certifications, the $3,499 Getac B360 is a rugged laptop that provides ample protection for first responders, military personnel, and other workers in the field—and does so without forcing you to lug around a huge slab of a system with a low-resolution display and outdated components. The 13.3-inch Getac is quite thin and light as rugged laptops go; its full HD, 1,400-nit display looks great indoors and out; and it boasts up-to-the-minute 10th Generation Intel silicon. You wouldn't want to write the great American novel on its keyboard, but the Getac B360 takes on Dell's Latitude Extremes and Panasonic's Toughbooks with a strong effort. It wins an Editors' Choice award for offering modern components and connectivity inside a fully rugged, relatively svelte package.
Rugged, But Not a Tank
The Getac B360 is available with 10th Generation Intel Core i5 or Core i7 power, up to 64GB of memory, up to two 1TB solid-state drives, and a single display option—a 13.3-inch IPS touch panel with 1,920-by-1,080-pixel resolution and 1,400 nits of brightness. My $3,499 test unit is the base configuration with a Core i5-10210U processor, 8GB of RAM, and a 256GB SSD. Except for the super-bright screen, that's a component lineup you can readily find on laptops priced below $1,000, but as with any fully rugged notebook, most of the Getac's price goes toward its exterior build and interior damage mitigations, rather than its internal components. And Getac has a winner of a rugged chassis with the B360.

Request more info from Getac
Thank You!