How mobile-first apps are changing law enforcement
Apps built for tablets, smartphones and smartwatches put mission-critical information at hand while improving efficiency, situational awareness
---
Sponsored by Tyler Technologies
By Laura Neitzel for Police1 BrandFocus
When the first desktop personal computers arrived on the scene in the late '70s and early '80s, data storage maxed out at about 2.5 gigabytes. Graphics were rudimentary (think the original Mario Brothers video game). The first short message service, or SMS, note, which we now call a "text," was sent in 1992. If you wanted to photograph a crime scene, you probably used a 35 mm film camera, since the first digital camera was not perfected until almost a decade later.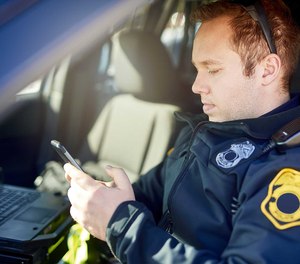 Fast forward to today, when most Americans have a smartphone, tablet or even a smartwatch that is more powerful than the supercomputers used to guide the Apollo 11 capsule to the moon. Now, anyone can use a handheld device to text, video chat, capture high-resolution images, play their favorite music, socialize with their friends, map the quickest way to a destination or even see a live view of Earth from the International Space Station.
Now that mobile technologies are fully integrated into our personal lives, police agencies are more open to equipping their superheroes with supercomputers: mobile devices and applications that leverage the ease of consumer applications but are built specifically to address the needs of law enforcement. Mobile apps can help keep officers more situationally aware while making tasks like reporting and evidence collection in the field more efficient and accurate.
Not only does the embrace of mobile technology make sense for safety, efficiency and accuracy, it will become increasingly necessary as the new generation of digital natives enters the profession already accustomed to mobile technology and the expectation of being constantly connected.
Here is a look at a few mobile-first apps that will soon put supercomputer capabilities in the hands of police officers – no matter where they are.
What is driving a mobile-first approach?
Mobile-first is basically the ability for folks to be able to perform their jobs out in the field on devices like a smartphone or tablet, says Russell Gainford, vice president of software strategy and development for Tyler Technologies' public safety division.
Tyler is committed to developing increasingly sophisticated yet user-friendly and intuitive mobile applications for public safety, made possible by rapid advances in the devices themselves and the impending arrival of 5G, the next-generation wireless network that promises unprecedented speed and data storage capacity.
"The No. 1 thing we're seeing is the improvement of device technology, the graphics processing, the chip processing, the memory and the ability for these phones and devices to be as powerful as your laptops and computers," said Gainford. "We also expect over the next three years that the 5G wireless network will be out and available across the United States, which will dramatically improve the speed of an individual's phone download by over 20 times. 5G will open up a realm of possibilities for mobility applications."
Apps to enhance situational awareness and safety
One of the areas where officers are most exposed day-to-day in the field is when they leave their vehicle and dispatchers are not able to locate them.
One of Tyler's mobile-first tools, New World ShieldForce, extends the computer-aided dispatch functionality onto a smartphone, tablet or watch, so a dispatcher can track an officer, first in their vehicle,  then by their phone and then their watch as they move, says Gainford. The application can also trigger an emergency beacon if it recognizes that an officer is in a foot chase.
In addition to being able to track a single officer, command staff can view real-time positioning of all units and personnel during a large-scale incident, which helps when backup is required.
ShieldForce was also designed to provide critical information to officers in the field to keep them more situationally aware. With information instantly accessible, law enforcement officers do not need to radio into dispatch for additional information or return to their patrol vehicles to request or pull data from their MDTs.
"An officer can scan a driver's license directly next to an individual in a car," said Gainford. "They can search for vehicles. They can search for individuals. It's a full-fledged dispatch application set that is meant to be the next generation of what's done in the MDT today."
Coming soon: An app for the smart watch
In addition to apps for smartphones and tablets, Tyler is working on an app that can push alerts, narratives and emergency notifications to an officer's smartwatch. This will allow an officer to stay situationally aware even in instances where they may want to be more discreet or when a phone or tablet is not accessible or convenient.
"One of the things we've heard from police officers is, 'Hey, when I'm out there and I'm talking directly to a potential suspect on a stop or something that's occurring, I'm not looking directly at my phone all the time," said Gainford. "Our goal with a smart watch application is to provide all the critical information that a first responder would need without them ever having to take a phone out of their pocket."
Biometric sensors in the smartwatch can also monitor an officer's heart or breathing rate and be configured to send alerts accordingly.
Evidence collection
Another area where the mobile-first approach has gained traction is evidence collection. Tyler's New World Scene Collect app gives investigators the ability to take notes, take photos or record videos in the field and automatically upload them to secure, CJIS-compliant cloud storage.
"An officer can take a narration from a citizen who witnessed an accident, get pictures and video of the surrounding scene and then that information instantly gets stored to the cloud," said Gainford. "Then that evidence will link back to the records management system so when an investigator goes into the records to look at the case or incident, they can view all the related files there instantly without having to navigate in multiple systems."
Access information from other departments
Tyler recently acquired MobileEyes, a mobile-centric application designed to allow fire inspectors to essentially perform fire inspections using national fire code standards and violations. Although designed for the fire service, the information gathered from the fire inspection can be valuable to law enforcement officers as well.
"The results of those inspections can flow back into the city's permitting software and also into the police department's CAD and records dispatch software," said Gainford. "That way, when a law enforcement officer is dispatched to a scene, they have information about that building, such as number of occupants, the nature of the business, whether there are hazardous materials stored at the location or whether there are fences, gates or security systems to be navigated."
The future is coming: Are you ready?
Gainford has been surprised at how quickly police agencies are embracing mobile-first technology.
"We expected that, at least for quite a few years, our mobile applications would be used more as a supplementary application to a mobile device terminal in the car that would be used to capture some evidence or look up certain information," he said. "But what we're seeing right now is that many agencies, especially smaller agencies with volunteers, are just getting rid of the laptops altogether and using mobile devices as their primary device for their job."
As millennials and Gen Z (born after 1995) enter the workforce, mobility will be the norm. Tyler Technologies is preparing for this near future, when mobile devices on 5G networks will give law enforcement unprecedented capabilities to share vital information that will lead to safer, smarter and more connected communities.

Request information from Tyler Technologies
Thank You!