Live-streaming 911 calls: An innovative approach to officer response
Software allows patrol officers to monitor incoming 911 calls in their immediate area providing the ability to hear information in real time
---
By Lt. Don Redmond
The call came over the police radio, "241J and 251J, respond to (address omitted). RP is recalling stating her son is at the door with a gun and hammer. Requesting any additional units to respond that way."
The situation could have escalated with several officers responding lights and sirens arriving with guns drawn to confront the person at the front door. But this incident unfolded differently.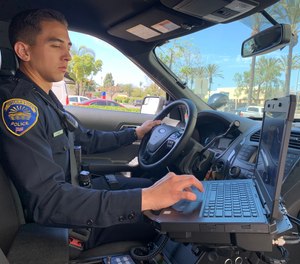 Officers were monitoring the 911 call "real time" in their patrol vehicles while they were responding. The officers could hear the caller arguing with the call-taker that she was tired of waiting for officers. She alleged it was an on-going issuing with her son wanting money and every time she calls 911, her son was gone by the time officers arrive. The caller also stated she did not actually see a gun and that her son had put the hammer away in his car. Officers arrived and calmly contacted the son. The son was unarmed, and no crime had occurred.
Monitor incoming 911 calls
The idea of live-streaming 911 calls to officers in the field came from retired Chula Vista Police Department (CVPD) Captain Fritz Reber, who contacted a company called HigherGround to develop software for the task. HigherGround provides digital call recording software solutions to dispatch centers and is knowledgeable in the area of police communications. In May 2019, HigherGround partnered with the Chula Vista Police Department to develop what would become Live911.
The concept is simple. Patrol officers monitor incoming 911 calls in their immediate area hearing information in real time. They are listening to the interaction between the caller and call-taker. The officers hear the caller's actual words and tone of voice. They hear the urgency and small details that may not be entered into the CAD system.
Live911 uses RapidSOS to identify caller location previously only available to dispatchers. Typically, officers receive a general location of the incident, (i.e. 200 Blk. Main Street, parking lot, etc.). Officers now see the exact location of the caller on a map. This new feature provides the officer a head-start on the call, thus reducing response times. Officers do not have to wait for the call-taker to obtain the information, enter it into the CAD and then a dispatcher to read and dispatch officers.
The Chula Vista Police Department receives approximately 100,000 emergency 911 calls annually. Live911 provides the ability for officers to create a geofence around their vehicle allowing them to only stream 911 calls in their immediate area, while supervisors and watch commanders can increase the scan radius to include all 911 calls for situational awareness in deploying resources.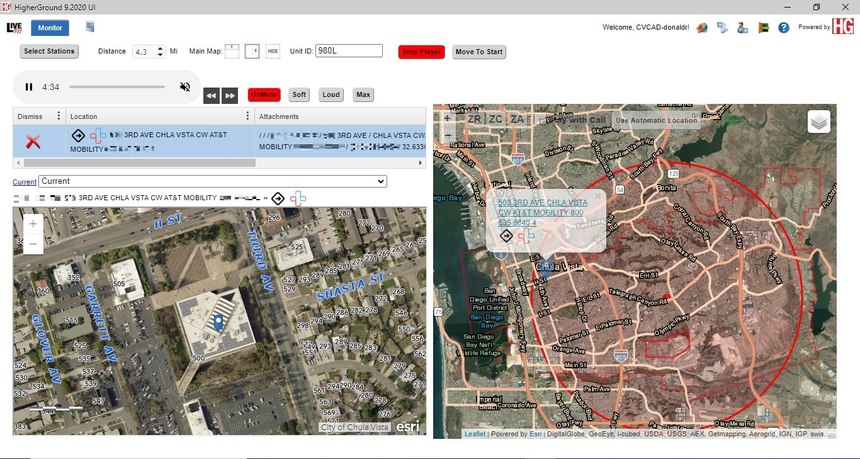 Live911 implementation
Several concerns were expressed before Live911 was implemented:
Would officers become overwhelmed with emotions while listening to a frantic 911 call?
Could driving while listening to Live911 be hazardous?
Would there be increased radio traffic with officers wanting the call taker to ask additional questions?
Dispatchers were also concerned Live911 would be used as a disciplinary tool with officers second-guessing their actions. Fortunately, none of these concerns came to fruition.
Officers can hear all the information directly from the caller instead of an abbreviated synopsis by the dispatcher. Studies show officers' actions are affected by the information they receive from dispatchers, a concept known as dispatch priming. Providing officers access to the entire conversation between caller and call taker can have a profound effect on how an officer responds to an incident as seen from the example above.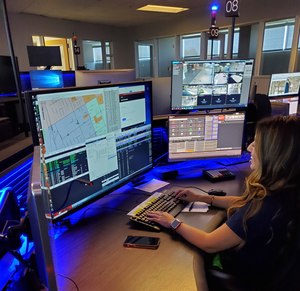 Officers appear to be driving safer because they no longer read the call updates on the computer while driving to the call. Radio traffic has also decreased during critical 911 calls. Officers now hear the call taker asking questions of the caller. Officers hear the answer before a call taker can type the response and then the primary dispatcher can read and air it. Officers can clarify or repeat information by saying, "Can you confirm?" or "I copied white car leaving east now." The flow of information is especially helpful when a primary dispatcher is handling multiple incidents at a time and is unable to immediately air updated information.
With the implementation of Live911, officers have a new-found respect and better understanding of the challenges facing call takers in obtaining information during a 911 call. Callers can be hysterical, confrontational, disrespectful and vague when answering questions. Officers hear the professionalism of dispatchers and can educate callers as to why dispatchers need the information. Officers, dispatchers and call takers work together to ensure accurate information is being conveyed. If a call taker inadvertently enters an incorrect address for a crime in progress, the officers can hear the correct address and respond.
Live911 has the potential to be a game-changer for law enforcement response to 911 calls. The current national conversation is focusing on how officers can make better decisions and increase their de-escalation skills. When an officer makes their final turn onto a street during an emergency, that officer should have all the information available as to what is occurring right now, not one minute ago when the officer was dispatched, in order to make the best decision possible.
Technology pioneer
The Chula Vista Police Department is a pioneer when it comes to using new technologies and tools to create a stronger and more cost-effective emergency response ecosystem.
CVPD has adopted a Public Safety Innovation (PSI) initiative focused on using technology to enhance community and officer safety, increase situational awareness and reduce response times. In addition to being the first agency in the country to live-stream 911 calls to officers in the field, CVPD is a member of the FAA's Integration Pilot Program (IPP).
CVPD's concept of operation (CONOPS) is called Drone as a First Responder (DFR) and is a transformational method of policing demonstrating the ability to increase officer and community safety and reduce overall police response times. DFR provides the ability to see what is going on at an incident before emergency personnel arrives on scene allowing a trained incident commander to "virtually" arrive on scene first, sometimes minutes before officers are in harm's way.
Law enforcement is facing new challenges and advancing technology to keep our community and officers safe is imperative. Police agencies should embrace new technology and find ways to partner with companies to explore new ideas and reduce costs. CVPD has a forward-thinking technology culture that is supported at all levels. As police agencies across the country grapple with improving police services, technology is a key solution.
NEXT: Deploying a drone as a first responder
---
About the author
Lieutenant Don Redmond began his law enforcement career with the Chula Vista Police Department in 1996. During his 24 years in law enforcement, Lt. Redmond has worked various assignments including patrol, traffic, SWAT, Professional Standards, Watch Commander, Community Policing Commander, Emergency 9-1-1 Communications Center Manager and Jail Commander. Currently, Lt. Redmond is the Adjutant Lieutenant overseeing UAS (Drone) Operations and special projects including the implementation of Live911.
Lt. Redmond has a Bachelor of Arts degree in Education from San Diego State University, a Master's Certificate in Criminal Justice from University of Virginia and a Master of Arts degree in Administrative Leadership from the University of Oklahoma. He is a graduate of the California P.O.S.T. Command College (Class 64) and the prestigious FBI National Academy (Class 263). He has been published in the FBINAA Associate Magazine and is an adjunct community college instructor.

Request product info from top Police Software companies
Thank You!