PRESS RELEASE
Omnilert AI-powered visual gun detection is integrated with Avigilon Alta access controls to help prevent gun violence
---
Leveraging Omnilert Gun Detect with Avigilon Alta solutions allows rapid response to threats with instant intelligence sharing and automatic lockdown capabilities
LEESBURG, Va. - Omnilert, a leader in active shooter and emergency notification solutions, today announced the integration of Omnilert Gun Detect software with Avigilon Alta's leading access control systems, formerly Openpath. Through this integration, Avigilon Alta customers will now be able to provide 24/7 monitoring of their facilities for gun threats with Omnilert Gun Detect and simultaneously activate lockdowns and response plans for a near-instant response to a verified threat. This includes immediately restricting access by locking doors, notifying police, sending alerts to those on and off site, and more.
Omnilert SMS and App notifications feature rich situational intelligence of suspected gun detections for human verification, that could be either Omnilert's monitoring centers or the customer's security operations center. Automated response and lock-down scenarios can be activated at the touch of a button. These customized plans could include lock doors, notify police, alert all students and staff onsite and provide real-time location and details of the shooter to first responders.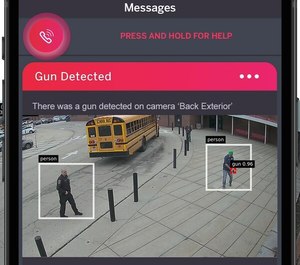 Avigilon Alta offers mobile and cloud-based access control systems to accommodate both small and enterprise businesses. These systems are currently deployed in commercial real estate properties, enterprise offices, educational institutions, houses of worship, gyms and fitness studios, and multi-family residential communities across the U.S. and internationally.
Building perimeters and parking lots are one of the most insecure areas on a corporate or school campus and are one of the first locations where guns are commonly spotted in advance of an incident. In addition to being used indoors, AI-powered visual gun detection is the only technology that can add a layer of protection to these external areas. In addition, Omnilert Gun Detect is the only solution that features a unique combination of early gun detection, human verification, mass communication, and an automated response. When combined with an access control technology, such as Avigilon Alta, customers have the ability to spot a gun, secure buildings and warn those in harm's way before a shot is even fired.
"With active shooting incidents and gun violence on the rise in virtually every industry, AI visual gun detection technology is becoming a requirement in a multi-layered security system," said Dave Fraser, CEO of Omnilert. "Avigilon Alta has been keeping its customers safe for decades with its access control systems, and now our Gun Detect solution will combine to provide another layer of protection that can identify weapons in seconds and initiate a quick and robust response."
Online Visual Gun Detection Self Demo
Once Omnilert Gun Detect identifies a gun, it sends an alert to a designated person that could be part of either Omnilert's monitoring centers or the customer's security operations center to verify detections. When a threat is confirmed, the Omnilert system triggers an alert that sets the security team and police into action, along with prescribed response scenarios that can protect those in harm's way. This solution gives emergency response teams advance warning before shots are fired and delivers precise information on the location and a photo and video of the potential shooter.
To let people try out the gun detection software themselves in their own home or office, Omnilert recently released a cloud-hosted, self demo that uses a webcam vs. a security camera to detect gun threats. This demo lets users see the power and potential of Gun Detect using their computer's webcam and a real or real-looking toy gun. To access the demo and test Gun Detect, visit https://omnilert.com/demo.
About Omnilert
Omnilert is transforming public safety with the industry's most effective AI-powered active shooter prevention solution that combines early visual gun detection with a proven rapid response that can save time and lives. The Omnilert platform empowers existing security cameras with monitoring software that can identify gun threats at first sight and then activate automated response capabilities that maximize each critical second. Once a gun is verified, this could include locking doors, notifying first responders, sending images, location and video of the shooter; and sending alerts and guidance to anyone near the situation, all in mere seconds. Founded in 2004, Omnilert is the trusted partner to thousands of customers across multiple industries including K-12 schools, higher education, government, healthcare, manufacturing and retail. The company is headquartered in Virginia. For more information, visit https://omnilert.com/.

Request more info from Avigilon, a Motorola Solutions Company
Thank You!