7 ways the cloud can help agencies keep up with an explosion of data
The cloud provides unmatched benefits in speed of deployment, security, budgeting, operational flexibility and more
---
Sponsored by Motorola Solutions
By Police1 BrandFocus Staff
Police and other public safety agencies are facing an explosion of data, making it difficult to store, access and digest information efficiently. Many agencies are hampered by siloed systems and outdated technology. In fact, a 2019 report found that 40% of an agency's computers may be over seven years old and running decades-old software.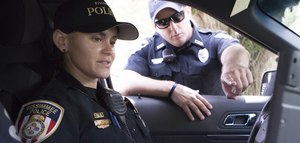 Updating to a modern, interconnected system doesn't have to be hard, and it can be done at your own pace. The cloud provides unmatched benefits in speed of deployment, security, budgeting, updates and operational flexibility. According to a 2019 Motorola Solutions Survey Report, 80% of agencies are looking to move to cloud-hosted solutions to gain agility, lower costs and access innovation sooner.
By adopting a cloud suite, agencies can take advantage of powerful integrations to share data, streamline workflows and strengthen collaboration. Here are seven key ways a cloud-hosted solution like PremierOne Cloud from Motorola Solutions can help improve your agency's operations.
1. Reduced down time
Adopting a cloud solution versus an on-premises platform can reduce system implementation time by up to 50% so your agency can be up and running faster. With PremierOne Cloud, Motorola Solutions manages the maintenance, updates and support tasks, freeing up your team's IT resources.
The events of 2020 proved that flexibility is critical to keep operations moving forward no matter what. The cloud makes it easy to adjust seamlessly without disrupting mission-critical performance, whether it's staying current with software updates or enabling remote work or a sudden change in location.
2. Predictable cost structure
Shifting to an operational expenditure model eliminates the need for capital investments to keep technology current and makes costs more predictable. Cloud access provides the flexibility to add additional processing power and storage as needed – a benefit that is particularly valuable during large-scale emergencies.
3. Reduced time spent on 'paperwork'
Anything that can make an officer's job easier is bound to be appreciated by the rank and file. PremierOne Cloud unites proven, familiar tools with an improved user experience. The streamlined workflows between CAD, records and mobile systems, plus maximum data sharing enabled by the cloud, mean less time spent on "paperwork" and more time for core functions like patrol and investigations.
4. Better data management
PremierOne Cloud streamlines the process for creating, dispatching and closing incidents, enabling more efficient data management. The integration enabled by the cloud also ensures that information flows between CAD and records to make information more easily accessible in the field and provide a more complete view of the incident – an important element of greater situational awareness and officer safety.
Because all your agency's data is collected and collated in a single system, PremierOne Cloud reduces duplicate data entry and makes sure the data is correct, accessible and shareable in as few clicks as possible. The system also provides an internet-like unified search across all of your agency's data to find the information you need faster.
5. Enhanced cybersecurity
One common misconception about the cloud is that the cloud is less secure because it's web-based. In fact, the cloud is more secure than on-premises systems. (Learn more: Cloud Security White Paper.) The cloud also ensures the continuity of mission-critical operations with redundant, geographically isolated data centers and infrastructure – if one server goes down, others are available to provide backup at all times.
Your cloud provider should shoulder most of the burden of building, hosting, maintaining and securing the system so your agency can dedicate time and effort to focus on mission-critical tasks. With PremierOne Cloud, the responsibility for compliance is shared among Microsoft Azure Government, Motorola Solutions and the customer. The Microsoft Azure Government Cloud is built specifically for government-based, mission-critical applications and adds essential security layers.
This partnership helps your agency meet responsibilities to support compliance with even the most stringent legal and regulatory requirements, and Motorola Solutions employs a dedicated team of experts for all CJIS-related inquiries and audit support.
6. Secure data control & privacy
Another common misconception is that storing your agency's data in the cloud means losing control – but a cloud platform should help your agency store, manage and analyze the information – without taking ownership of the data.
Look for a solution that provides robust security measures while ensuring that your agency retains control over the collection, use and distribution of your data. For example, Motorola Solutions works with Microsoft and Amazon Web Services to provide trusted cloud services with rigorous data security and privacy practices, and the data always belongs to the user agency.
7. Future-proof investment
Because the cloud makes it easy to stay on top of the latest software updates and security measures, this model helps agencies anticipate and accommodate future needs, such as adding capacity as the agency grows or boosting response for a crisis.
This makes a cloud solution a "future-proof" investment, says Josh Smith, director of CAD product management for Motorola Solutions.
"When we say updates are smoother in the cloud, it means Motorola Solutions handles upgrades and the customer does not have to worry about extra costs or the impact to perform these updates," Smith said. "These upgrades also protect against vulnerabilities and keep agency systems secure. We are also giving new features, functionality and even solutions to our customers as soon as they are available."
PremierOne Cloud is an investment in an evergreen suite, he adds. 
"As we develop additional next-generation cloud capabilities, you'll be able to adopt new features, user interfaces and applications without requiring a system overhaul," Smith said. "Like all of our command center software, the new capabilities we develop will unify your data, streamline your workflow and help you easily adopt the features that meet your needs, on your timeline."
For more information, visit Motorola Solutions.
Read Next: 5 ways CAD in the cloud can reduce costs, increase efficiency

Request information from Motorola Solutions
Thank You!