Motorola Solutions expands real-time awareness for command center
A cloud-based command center software can now integrate with body cameras and in-car video systems
---
By Police1 Staff 
CHICAGO — Motorola Solutions is expanding its CommandCentral Aware technology. The real-time crime center can now integrate with body cameras and in-car video systems, allowing police agencies access to multiple viewpoints via a video live-stream, the company announced in a Monday press release. 
CommandCentral Aware is a cloud-based subscription service that creates a single operational view for computer-aided dispatch, maps, radio, video and broadband communications systems, among other crime prevention technologies and data, the company says.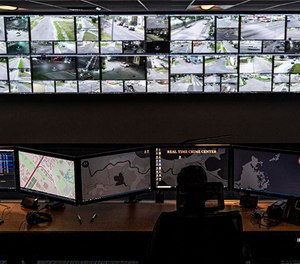 "Today's public safety agencies are inundated with data, but it's meaningless without the right tools to interpret and share it," said Jehan Wickramasuriya, vice president of the Artificial Intelligence & Platform division at Motorola Solutions. "From the moment an incident is detected, CommandCentral Aware clearly displays the location of critical resources, unifies real-time and recorded video, together with other relevant data sources, allowing agencies to efficiently and effectively coordinate their responses." 
Mark Garber, sheriff of Lafayette Parish, says the new integration with mobile video has helped his officers better respond and react to an incident. 
"The amount of data we need to capture, analyze and share would be overwhelming without CommandCentral Aware, which consolidates data from our communications and camera systems, so our command staff have 'eyes' on the scene and our first responders at all times," Garber said in a statement. "It allows us to map personnel and access field-based intelligence, so we can dispatch and manage the appropriate resources." 
Learn more about CommandCentral Aware by Motorola Solutions here.

Request product info from top Public Safety Software companies
Thank You!