Your agency's guide to building a real-time operations center (eBook)
With the right tools in place, information from a variety of sources can be absorbed and analyzed as events unfold
---
Sponsored by Motorola Solutions
The abundance of data now available to law enforcement agencies presents both an opportunity and a challenge: How can police correlate information from various sources and in various formats to render actionable data in real time?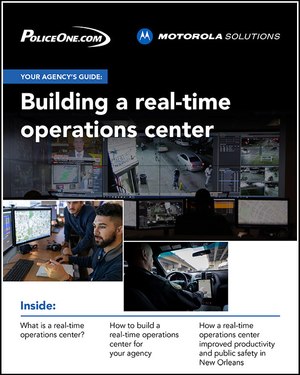 This growing need has fueled the development of real-time operations centers to more effectively manage data from myriad sources – body-worn cameras and other video, social media, structured and unstructured data, etc. – to better connect and empower officers on patrol.
Download this free guide to learn about the functions and benefits of an RTOC, including analysis, crime prevention and more efficient investigations, as well as how to build your own RTOC.
What's inside:
What is a real-time operations center?
What are the key steps to building a real-time operations center for your agency?
How to overcome common challenges when setting up a real-time operations center.
How a real-time operations center has improved productivity and public safety in New Orleans.
Resources for more information.
Fill out the form below for your FREE eBook: