Kustom Signals Announce New Smart 650 Radar Speed Trailer for $5,000 With 5-Year Warranty
---
Lenexa, KS, (April 2015) – Kustom Signals, Inc. announced today the release of the SMART 650 RADAR speed trailer. This highly visible trailer has a 12 inch rounded character, full matrix
LED display with flashing overspeed violator alert and multiple optional violator alerts including RED "SLOW" LEDs, red-blue flashing bars and white LED photo strobe.
The SMART 650 is rugged and trouble free with Kustom Signals' directional radar. These trailers are lightweight and easily deployed. It comes standard with a 5-year warranty which includes all trailer electronics covering the display, Kustom directional RADAR, and the optional solar panel and traffic statistics computer. The SMART 650 will be continuously operational for up to 10 days with the use of 1 battery. An optional second battery or solar panel can be used
for autonomous operation. A wireless remote control is provided for easy roadside programming.

All of this delivered for $5,000 in continental US.


About Kustom Signals, your no risk partner:
Established in 1965, Kustom Signals, Inc., an MPD Inc. company, designs and manufactures a complete line of speed enforcement, speed awareness and in-car video systems for law
enforcement agencies, along with the Contour product line. For more information, visit www.KustomSignals.com.
About MPD, Inc.
MPD, Inc. was established in 1987 and is headquartered in Owensboro, KY. MPD's customers include U.S. and foreign military services and their contractors, avionics manufacturers, law enforcement organizations, industrial companies and commercial concerns. For more information, visit www.mpdinc.com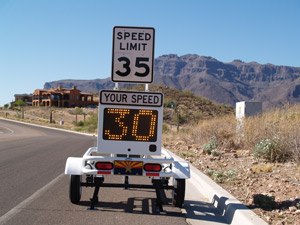 Request more info from Kustom Signals Inc.
Thank You!