Spotlight: SuperDroid Robots create police robots ready for any tactical situation
Their surveillance robots protect officers from attack and allow officers to quickly access the need for further action
---
Company Name: SuperDroid Robots
Headquarters:  Fuquay-Varina, North Carolina
Signature Product: Surveillance Robots
Website: https://www.superdroidrobots.com/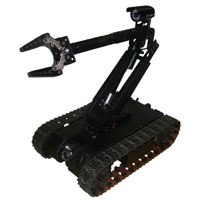 SuperDroid Robots are some of the best defense against human harm in dangerous situations. From remote surveillance to disarming pressure cooker bombs, the UGV can handle the jobs that are just too dangerous for humans.  Their unique experience using in-house design and development allows SuperDroid Robots to quickly and cost-efficiently address individual needs. 
                                                    Where did your company name originate from?
SuperDroid Robots is our trademarked name and began as the name of a series of four humanoid robots developed in the early 1980's as science projects.
What was the inspiration behind starting your company? 
SuperDroid Robots, Inc. started in 1999 from royalties won competing in the television show Battlebots. While we knew the robots were entertaining, we also knew the technology we were developing could be transferred to more practical applications.
Why do you believe your products are essential to the police community?
Designed and built specifically for surveillance, investigation, and negotiation, SuperDroid Robots always keep humans out of harm's way. The MLT Compact Complete Surveillance Robot is perfect for saving time and lives in a hostage situation. It protects the officer from attack and allows the officer to quickly access the need for further action. 
In chemical contaminated or explosive areas, the use of our robots provides an obvious choice for protection and minimal disturbance of evidence. The LT2 Treaded Surveillance Robot with 4
Axis Arm and larger HD2 Treaded Tactical Robot have performed in the following situations:
Remote surveillance
Mine sweep EOD(Explosive Ordnance Disposal)
IED (Improvised Explosive Device) inspection
HAZMAT - monitoring radiation and toxic gasses
Climbing stairs
Object manipulation using 3-Axis, 4-Axis, and 6- Axis Arms
Night vision surveillance
Waterproof submersion
Surveillance with multi-channel security cameras
Surveillance from a scissor lift
Security and patrolling
Homeland Security
Pressure Cooker Bomb detection
Dragging rescue
What has been the biggest challenge your company has faced? 
SuperDroid Robots does a lot of commercial and educational robots. The autonomous robot (robots that think and act on their own) always present a large challenge.
What do your customers like best about you and your products?
Tactical robots don't work if a "one size fits all" concept is applied. SuperDroid Robots, Inc.'s ability to customize a robot for specific needs in a quick, cost-effective process is what makes our robots stand out. For example, over the years we've found that robots with tracks that work in the snow-covered mid-west might not be the best for border patrol in the desert. Expensive robotic arms used for IED disposal aren't necessarily the best for remote meth lab investigation. Our unique experience using in-house design and development allows SuperDroid Robots to quickly and cost-efficiently address individual needs. 
What is the most rewarding part of serving the first responder community? 
The most rewarding part of serving the first responder community is hearing feedback from successful missions and rescues. Field tested input is invaluable in developing faster, safer, more user-friendly robots.  Field feedback led to many of the features seen on our robots. Officers in Raleigh, N.C. tested a wheel puncture devise used as a tool for our robot arm on the HD2 Robot. We developed and tested a custom robot for FDNY using national standards and obtained top ratings at the Disaster City course. Having invaluable feedback and involvement from first responders allows us to develop the robotic assistance required to address ever-changing and dangerous situations in today's world.
Is there any fun fact or trivia that you'd like to share with our readers about you or your company? 
Our winning robot for BattleBots was called "The Atomic Wedgie". 
What's next for your company? Any upcoming new projects or initiatives?
SuperDroid Robots is incorporating scissor lift technology as an option in our robotic platforms for utilization of better camera angles. Our wireless technology is constantly evolving. We are developing network mesh systems to allow first responders to communicate with the robot from further and more protected distances.  In the coming year, our robots will continue to utilize remote control operation with the addition of game pad and smart phone technology option make them easier to operate. Large robots and Barricade busters like our "Overkill" robot and our snow plows are getting a lot attention right now for use in natural disasters like sink holes or unexpected snow storms.