PRESS RELEASE
RAD unleashes RADDOG 2LE, the robotic dog for law enforcement applications
---
RADDOG 2LE empowers officers to conquer challenging terrain, reach inaccessible areas, and navigate through dangerous environments
DETROIT — Artificial Intelligence Technology Solutions, Inc., (the "Company") (OTCPK:AITX), a global leader in AI-driven security and productivity solutions, along with its wholly owned subsidiary Robotic Assistance Devices, Inc. (RAD) today announced that it is now accepting orders for RADDOG 2LE, the robot dog purpose-built for law enforcement agencies. Limited quantities are available as early as July 2023.
RADDOG 2LE marks a critical evolution of quadruped robotics positioned to improve the capabilities of law enforcement agencies and enable them to apply practical robotics for a variety of tasks. With its agile quadruped (four-legged) design and cutting-edge external accessories, RADDOG 2LE empowers officers to conquer challenging terrain, reach inaccessible areas, and navigate through dangerous environments.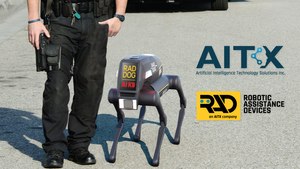 Troy McCanna, RAD's Chief Security Officer and a former FBI Agent with extensive experience as a Multi-Jurisdictional Task Force Coordinator/Supervisor, expressed his appreciation for RADDOG's capabilities. McCanna remarked, "Throughout my tenure with the FBI, I often wished for a solution like RADDOG, which would have offered invaluable foresight into the operational environment before deploying my fellow partners into potentially dangerous situations. I can only imagine the tremendous situational awareness benefits that RADDOG would have provided."
RADDOG 2LE offers law enforcement agencies an exceptional combination of advanced performance features and remarkable affordability. Driven by RAD's 'RADPack LE', this quadruped features RADSoC, the on-board visual analytics and video management system included with all of RAD's AI-powered solutions.
RADPack on RADDOG 2LE offers unique features, specifically including an interactive touch screen located at the front of the quadruped. This interface facilitates smooth, high-definition video communication between remote law enforcement officers and individuals within the robot's vicinity. Complemented by integrated microphones, powerful audio speakers, programmable alert lighting, and front headlights, RADDOG 2LE possesses an array of capabilities to effectively engage with, and capture the attention of those it may confront.
"RADDOG represents the epitome of our achievements and offerings at RAD," said Steve Reinharz, CEO of AITX and RAD. "Its exceptional performance as a 'force multiplier', advanced communication capabilities, sleek design, and comparable low cost should make it very attractive to law enforcement agencies."
The Company noted that additional iterations of the RADDOG platform will be announced over the next several weeks.
RADDOG 2LE is scheduled to begin shipping in late July. Complete specifics of its capabilities, features and other details can be found at www.raddog.ai and www.radsecurity.com.
AITX, through its subsidiary, Robotic Assistance Devices, Inc. (RAD), is redefining the $25 billion (US) security and guarding services industry through its broad lineup of innovative, AI-driven Solutions-as-a-Service business model. RAD solutions are specifically designed to provide cost savings to businesses of between 35%-80% when compared to the industry's existing and costly manned security guarding and monitoring model. RAD delivers this tremendous cost savings via a suite of stationary and mobile robotic solutions that complement, and at times, directly replace the need for human personnel in environments better suited for machines. All RAD technologies, AI-based analytics and software platforms are developed in-house.
RAD has a prospective sales pipeline of over 35 Fortune 500 companies and numerous other client opportunities. RAD expects to continue to attract new business as it converts its existing sales opportunities into deployed clients generating a recurring revenue stream. Each Fortune 500 client has the potential of making numerous reorders over time.