How one Colorado police department uses connected software solutions to expand capabilities
Castle Rock PD uses a range of software solutions to streamline processes, increase situational awareness and share critical information with regional agencies to increase public safety beyond their borders
---
Sponsored by Tyler Technologies
Located between Denver and Colorado Springs, Castle Rock, Colorado sees more than its share of crime, both homegrown and perpetrated by criminals passing through. As the county seat of Douglas County, Colorado, the police department of Castle Rock and the county sheriff's office naturally share the same goal of keeping citizens of both the city and the county safe while keeping criminals at bay.
By operating with common tools like New World Computer-Aided Dispatch to power their shared 911 dispatch center, Castle Rock PD and other agencies can more easily gather and transmit critical information like the location of a stolen vehicle or the criminal history of an escaped felon in order to more quickly and safely get criminals off the streets.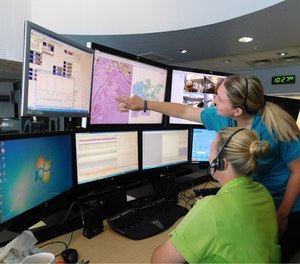 Castle Rock PD uses a range of solutions from Tyler Technologies to help streamline processes and increase situational awareness and safety by accessing and sharing critical information across their own department and with other agencies.
"Tyler Technologies comes to the table with some of the most innovative stuff for an agency our size," said Castle Rock PD Commander Todd Brown. "It has helped us become a leader in our use of technology."
Starting with mobile tools
Castle Rock PD's first experience with Tyler Technologies was New World Computer-Aided Dispatch, which was already in use by the county sheriff's office. New World CAD gives dispatchers in the shared 911 center the ability to keep first responders across agencies constantly updated with an instant data flow. Officers in the field can access the CAD system from their in-vehicle mobile data terminals (MDTs) without needing to rely on radio transmission, phone calls or visits to the station for updates to CAD narratives.
Pleased with the capabilities that New World CAD provided using the MDTs, Castle Rock PD then started looking at mobile tools that integrated with the CAD system to give officers in the field not only the ability to map a location using GPS but also to identify in real time the location of additional units.
"When I started, there was no technology to get you to an address. You had to read a map book or search out an address and drive to that based on waypoints and your knowledge," said Brown. "Now, Tyler tells you not only where you're going, it also tells you where the other responding officers are."
Expanding capabilities in the field
To expand capabilities in the field, Castle Rock PD adopted Brazos Electronic Citation for both their mobile devices and MDTs. Using Brazos on a mobile device and with a mobile printer, the department's parking officer has substantially increased the volume of tickets he can issue just on foot patrol.
Gathering data to measure impact
In addition to New World CAD and Brazos Electronic Citations, Castle Rock PD also has adopted Tyler's New World Decision Support Software. DSS allows the department to harness data from other Tyler applications and gather insights from that data to shape department initiatives and to share with department and city leaders.
For instance, although the state of Colorado does not have a mandated written warning, Castle Rock PD's chief of police recognized they were missing an opportunity to collect information that could help the department measure how their law enforcement actions are impacting crime and traffic issues. Because Brazos comes with a warning module, the chief directed the department to start using it to issue warnings for traffic stops even if they don't result in a citation.
Because the process of writing a warning is just as easy as writing a ticket, officers have been able to gather information on thousands of traffic stops, says Brown. Having exact information on who they stopped, why, when and where not only gives the department data that helps them make decisions about how to more effectively deploy resources, it also gives them data that fosters greater transparency with citizens about their enforcement actions.
Mining data for insights
Having the ability to track and report every arrest, call for service, reported incident, piece of property or evidence logged along with the details surrounding each of these items, public safety agencies deal with a robust volume of data. This can be both a blessing and a curse.
By using this data, crime analysts, law enforcement officers, computer aided dispatch managers, and other officials are able to identify trends, implement predictive policing and keep communities safe. However, without a public safety software system to organize and analyze this data into meaningful insights, the sea of information can be overwhelming.
Using tools like New World Decision Support Software to make order from the jumble of data, Castle Rock PD is able to connect cases, identify patterns and trends and share relevant information across their agency and with other agencies.
"Being so close to Denver and Colorado Springs, we get a lot of criminal groups that hit Castle Rock on a one- or two-day spree, but then they disappear back into the two metro areas," said Brown. "Our crime analyst shares a lot of that data with the local crime analyst group, which improves transparency."
Connecting solutions, sharing information
Adopting multiple Tyler solutions, sharing information across applications and streamlining processes helps the Castle Rock PD reap multiple benefits that add up to a whole greater than the sum of its parts – a bold step toward a transformative, connected ecosystem of solutions called Tyler Alliance.
Castle Rock PD continues to adopt and embrace Tyler products and enhancements as they become available and take advantage of learning opportunities like Tyler University that help them get the most out of their tools.
Gathering and sharing information like crime trends and real-time CAD updates gives not only Castle Rock PD a leg up in the fight against crime, but benefits agencies across the region in ways large and small – from identifying collision hotspots on their shared highways to improving situational awareness and safety of first responders.
"Tyler Technologies for us is essential," said Brown. "We're always excited for tools that make us more effective at what we're doing."

Request information from Tyler Technologies
Thank You!