PRESS RELEASE
Shenandoah County deploys new land mobile radio system supported by Mission Critical Partners
---
Project 25-compliant system is enhancing coverage, capacity, and reliability for Shenandoah County, Virginia, emergency responders
STATE COLLEGE, Pa. — Mission Critical Partners (MCP) announced the completion of a multiyear project to replace an aging conventional analog land mobile radio (LMR) system in Shenandoah County, Virginia, with a state-of-the-art system that complies with the Project 25 (P25) standards for digital radio systems. The work was performed under a contract that Shenandoah officials awarded after a competitive bidding process.
Shenandoah County's new state-of-the-art, P25 Phase 2-compliant, digital trunked radio system features seven tower sites and a new microwave/fiber backhaul system.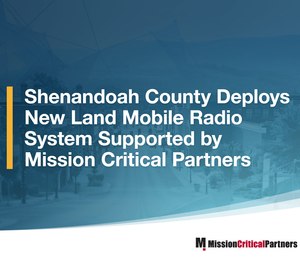 The new P25 system, which is operated by the Shenandoah County Emergency Communications Center (ECC), provides the following benefits compared with the legacy system:
Dramatically improved quality of voice communications due to the transition to digital technology.
Significantly improved coverage and capacity, largely due to the increased number of tower sites and channels, but also to the trunked configuration, which increases the number of available talkpaths.
Significantly enhanced reliability and redundancy.
Enhanced interoperability with surrounding local jurisdictions, as well as state and federal agencies.
A countywide tone-and-voice paging capability that previously did not exist.
The performance improvements exhibited by the new P25 digital LMR system were immediate and eye-opening, according to Gary Yew, communications project manager.
"We have been amazed by the crystal-clear communication and flawless transmission of our radios," said Mellanie Shipe, ECC director. "Mutual-aid departments have praised our new system and the improved quality compared to theirs and our previous system. Shenandoah County is proud of the hard work that went into this project."
The emergency communications center (ECC) — which provides emergency-response dispatching services for the sheriff's office, four police departments, one security office, and 13 fire/rescue departments — also operated the legacy system. This system was at end of life, was no longer public-safety grade, and was experiencing numerous significant performance issues.
Specifically, the number of tower sites and available channels was limited, which affected coverage and capacity. The aging system also was experiencing reliability issues due to parts that in some cases were at least 20 years old. 
MCP subject-matter experts kicked off the project by performing a comprehensive assessment of the system, which unveiled the significant performance issues.
After the assessment revealed that a new system was needed, MCP supported the ECC by identifying technical specifications for a new system, facilitating the procurement process — by developing a request for proposals document and supporting the department's selection committee in its evaluation of vendor proposals — and supporting system implementation, testing, and cutover.
"The LMR radio arguably is the most important tool carried by emergency responders because without it, they couldn't perform their critical missions and would be in far greater danger," said Darrin Reilly, MCP's president and chief executive officer. "Because of that, we are honored to have played a role in helping Shenandoah County take this giant leap forward." 
About Mission Critical Partners (MCP)
Mission Critical Partners (MCP) is a leading provider of data-integration, consulting, network, and cybersecurity solutions specializing in transforming mission-critical communications networks into integrated ecosystems that improve outcomes in the public safety, justice, healthcare, transportation, and utility markets. Our comprehensive experience and vendor-agnostic approach helps us develop modernized solutions for our clients to maximize value and create optimal efficiency while mitigating risk. Additional information and career opportunities are available at www.MissionCriticalPartners.com.

Request more info from Mission Critical Partners
Thank You!