What's on the horizon: 6 key trends in public safety for 2022 (white paper)
How do we move forward as responsibilities that were once considered basic functions of public safety are now being reexamined?
---
Content provided by Mark43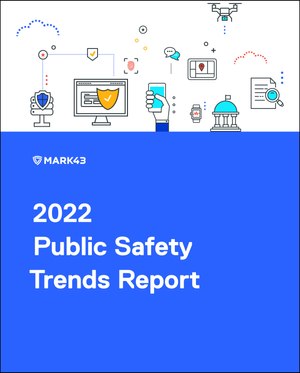 The last few years have been some of the most challenging for public safety in recent memory. Public safety agencies have had to contend with COVID-19, nationwide protests and public unrest, a historic rise in violent crime and a general decline in goodwill toward first responders.
It has been an exhausting few years that have seen many changes. But one thing has not changed: Police and other first responders remain committed to keeping communities safe.
It is critical for agency leadership to identify strategies and tools to guide law enforcement going forward. This 2022 Public Safety Trends Report, compiled by Mark43, is the result of comprehensive, thoughtful research, as well as conversations with industry leaders, public safety members and Mark43 customers.
Fill out the form below to download your free copy of the report and learn more about six key trends shaping public safety today, including what it means to "reimagine public safety," how to make the most of data, why mobile technology is critical to connect responders and enhance safety – and more.
Register for our live discussion of U.S. public safety trends for 2022 on Wednesday, Februrary 23, to hear more.
What's next for policing? Read the report to find out: