PRESS RELEASE
City of New Orleans selects Mission Critical Partners to overhaul criminal justice technology systems
---
NEW ORLEANS — The city of New Orleans announced its partnership with consulting and managed services firm Mission Critical Partners (MCP) to overhaul the city's critically antiquated justice technology systems under the Justice Tech Modernization Program authorized by Mayor LaToya Cantrell and the New Orleans City Council in December 2022.
On Aug. 15, subject-matter experts from MCP began working alongside city project managers to replace decades-old computer systems with advanced, cloud-based technologies. Both MCP's work and the acquisition of replacement systems will be funded under the $30 million American Rescue Plan Act (ARPA).
"After fighting tirelessly for a direct allocation of ARPA dollars, we heard directly from residents that they wanted part of this funding to go towards supporting and improving public safety, and this partnership with MCP is a perfect example," Cantrell said. "The ability to quickly obtain and disseminate information is a crucial tool for fighting crime, and recent advancements in technology have enabled multiple law enforcement agencies to accomplish this effectively. As a world-class police department, it is critical that we equip NOPD with every tool in the toolbox, not only to keep our people safe and protected but to also ensure we sustain our 21st-century police force."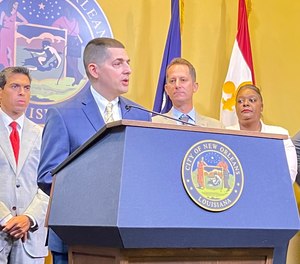 The planned justice technology upgrades will reduce cumbersome, repetitive data entry and paperwork, freeing professionals to pursue their true missions: public safety and public justice. Practical benefits will include: 
Officers will spend less time filing jail paperwork, searching for records, and waiting to testify in court
Sheriff's deputies will have up-to-the-minute information on the status of charges and required court appearances for individuals in their custody
Legal cases will proceed more quickly with fewer mistakes
Fewer court hearings will be rescheduled, relieving victims and witnesses from repeat trips to the courthouse in pursuit of justice
Transparency and accountability will be established in each of the technological processes 
"New Orleans cannot afford the human and financial toll caused by outdated technology in our justice system," said Chief Administrative Officer Gilbert Montaño. "Given the herculean task this project presents, it was critical that we identify a partner with a proven track record. We could not have hoped for a better partner than MCP, having completed more than 3,000 projects for more than 1,300 clients since 2009."
"A modern, connected information system is fundamental to building an effective and efficient justice system for New Orleans," said Chief Information Officer Kim LaGrue. "Mission Critical Partners brings a wealth of experience building data systems across a wide spectrum of justice agencies, both large and small. We look forward to working together, alongside our criminal justice agencies, to deliver the city's unprecedented commitment to this transformation."
"Mission Critical Partners has helped communities large and small across the country optimize their data to improve public safety and justice outcomes," said John Chiaramonte, MCP's president of consulting services. "We commend the stakeholders in New Orleans for their collaborative, shared vision of a modernized justice system and their significant commitment to funding that vision."
MCP is a leading provider of data-integration and security services with extensive experience consulting as an independent agent for local, state, and federal government entities. The firm's previous experience includes:
Planning and acquisition services to replace the statewide criminal history and biometrics system for the Louisiana Department of Public Safety and Corrections 
Uniform data standards development and implementation for the Los Angeles County Superior Court  
Data-integration planning and implementation for the State of California Administrative Office of the Courts 
About Mission Critical Partners (MCP)
Mission Critical Partners (MCP) is a leading provider of data-integration, consulting, network, and cybersecurity solutions specializing in transforming mission-critical communications networks into integrated ecosystems that improve outcomes in the public safety, justice, healthcare, transportation, and utility markets. Our comprehensive experience and vendor-agnostic approach helps us develop modernized solutions for our clients to maximize value and create optimal efficiency while mitigating risk. Additional information and career opportunities are available at www.MissionCriticalPartners.com

Request more info from Mission Critical Partners
Thank You!