Apply for Your FREE Ocean Systems dTective Forensic Video and Image Clarification System Today!
---
Ocean Systems dTective has been selected by the DHS CEDAP 2008 program as the system of choice in the category of Forensic Video and Image Clarification equipment. This open competition evaluated systems based on overall forensic capabilities and ease of use.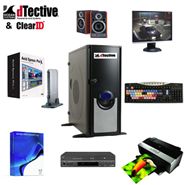 DHS CEDAP 2008: Commercial Equipment Direct Assistance Program
Application period is short.
Get started today
May 30th - June 30th
Historically, Video Surveillance Clarification Equipment has been the most sought after category.
Application period is open May 30th 0900 EDT - June 30th 1700 EDT. Don't miss out on a great opportunity to acquire this highly sought after forensic video and image clarification equipment through this free placement program that includes a complete system, training and travel.
Millions of Dollars Available For 2008
Since the program's inception in 2005, DHS CEDAP has provided awards worth more than $135 million.
"Local police and emergency personnel are the first on the scene of any incident, and often the cause is not immediately known," said Homeland Security Secretary Michael Chertoff. "This direct funding equips first responders with technology and training to complement local resources, and helps communities develop tools and capabilities that they may not otherwise be able to afford."
Getting Started is Easy
Step 1 - Determining if you are eligible. Ocean Systems can assist you.
A sample of the pre-qualification questions from last years application can be viewed by registering with Ocean Systems. This will give you a head start gathering the required information that will be needed once the grant application goes live on May 30th, 2008 at 0900 EDT on the RKB web site. As an added benefit of registering with Ocean Systems, we will be able to inform you of future grant opportunities.
Step 2 - Register your agency with the RKB (Responder Knowledge Base) web site to create an account so you can complete the online application once it is available. RKB is managing this CEDAP online grant opportunity.
Step 3 - Complete the Online CEDAP application at the RKB web site
The CEDAP grant application goes live on May 30th, 2008 at 0900 EDT
To Register with Ocean Systems for Application Tools and Future Grant Announcement
If you choose to register with Ocean Systems first, you will be presented with the a link to the sample pre-qualification questions and also provided a link to register your agency with RKB once you complete the Ocean Systems registration form. If you are not interested in assistance from Ocean Systems, click on the RKB link below to go directly to the RKB web site so you can register your agency.
To Register with RKB Directly
Click Here www.rkb.us then click on the Red MyRKB Logo at the top of the page.
Help Get The Word Out Regarding This Free Product Placement Program
We are attempting to inform the entire law enforcement and public safety community of this special opportunity. If you have a means of forwarding this information to other agencies, please help get the word out so they have an opportunity to apply during this short 30 day window.