Ocean Systems Awarded CEDAP Contract for 100 dTective Forensic Video Clarification Systems
---
DHS FEMA supports local law enforcement agencies through the Commercial Equipment Direct Assistance Program (CEDAP)
use if there is a picture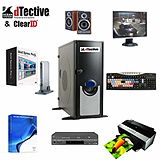 end picture
Burtonsville, MD (PRWEB) October 9, 2008 -- Ocean Systems, a leading provider of forensic video & image enhancement solutions, today announced that it has been awarded the CEDAP contract in the forensic video and image enhancement category. Under this contract, Ocean Systems will provide 100 Forensic Video & Image Enhancement systems (based on Ocean Systems dTective and ClearID) to local Law Enforcement and Emergency Responders throughout the United States.
In announcing this contract, Ocean Systems Director of Marketing, Charles Guarino said, "This award is highly significant. Now many more agencies will have this market leading forensic video clarification technology so they can better protect and serve their local communities. Additionally, these agencies are now outfitted to participate in the first responder's network that protects our country in case of national emergency."
Currently, there are over 1000 dTective systems in place at local, state and federal law enforcement agencies across North America.
CEDAP helps meet the equipment needs of smaller jurisdictions by providing communications interoperability, information sharing, chemical detection, sensors, personal protective equipment, technology, and training in using the equipment, devices, and technology. Awards are made to law enforcement and emergency responder agencies not currently eligible for funding through the Department's Urban Areas Security Initiative grant program.
The U.S. Department of Homeland Security's (DHS) Federal Emergency Management Agency (FEMA) opened the application process for approximately $16 million in equipment and training awards through its 2008 CEDAP program. Since its inception in fiscal year (FY) 2005, more than $104 million in equipment and training had previously been awarded through CEDAP to law enforcement agencies, fire departments and other emergency responders.
"Local police and emergency personnel are the first on the scene of any incident, and often the cause is not immediately known," said Homeland Security Secretary Michael Chertoff. "This direct funding equips first responders with technology and training to complement local resources, and helps communities develop tools and capabilities that they may not otherwise be able to afford."
Ocean Systems dTective solutions are listed on the Avid® General Services Administration (GSA) Schedule, contract number GS-35F-0638J for 2008-2009. To help expedite government purchases, Ocean Systems has also made its services available on GSA Advantage, (http://www.gsaadvantage.gov) the government's electronic ordering system.
Trusted Solutions from a Trusted Company
Since 1999, Ocean Systems has been providing multi-media evidence clarification and case management systems to law enforcement with dTective® powered by Avid® Systems. dTective® forensic video, image and audio clarification systems have become the standard and are the system of choice of over 1,000 federal and local law enforcement agencies in the US and around the world.