Why law enforcement agencies should include pursuit training and technology in their reform and de-escalation efforts (eBook)
Download this free eBook to learn why and how departments should strive to avoid high-speed pursuits through a combination of de-escalation tactics, training and technology
---
Sponsored by Pursuit Response
Vehicle pursuits are known high-risk events that result in injury and death to hundreds of people each year. Although pursuits can be equally as lethal as an officer-involved shooting, they have not received the same degree of attention and continued policy critique nationwide as other uses of force.
While calls for police reform grow louder, law enforcement agencies should consider high-speed vehicle pursuits as a use of force that merits re-evaluation and consider pursuit-response technology and training as part of their ongoing commitment to safe and effective de-escalation.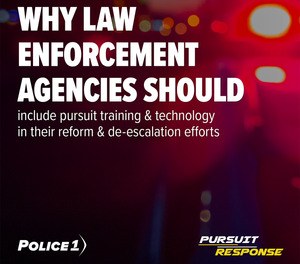 Fill out the form below to download the free eBook. You'll learn:
How stolen vehicle assistance technology can be used to apprehend car thieves safely.
How pursuit-response technology can be used to reduce risk and improve tactical decision-making during pursuit events.
Why and how de-escalation training applies in the driver's seat.
Resources for more information.
Fill out the form below for your FREE eBook:
Download the eBook "Why law enforcement agencies should include pursuit training and technology in their reform and de-escalation efforts"