Life after law enforcement: Former cops find new careers at First Tactical
With a sales staff of 30 retired cops from across the country, First Tactical has built both their products and their organization with the help of those in LE
---
The following is paid content sponsored by First Tactical
James Gentry spent nearly 27 years in law enforcement with the Clovis Police Department – a mid-size agency located in California's Central Valley. As an officer in a part of the state that is defined by its vast stretches of farmland, broken up by small towns and mid-size cities, he understands the difficulty many smaller departments can face in purchasing the equipment their police force needs out in the field.
"What I'm finding is a lot of the smaller agencies – there's really nowhere for them to go buy uniform products. Some of them have to travel an hour, two hours, just to buy the products they use every day. This online service First Tactical is offering is going to be a big help to those smaller agencies," Gentry said.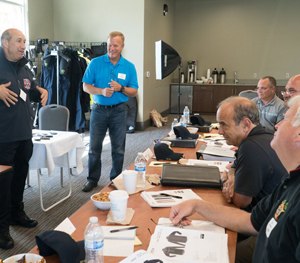 A new way for cops to shop
First Tactical designs and sells tactical apparel and gear directly to their customers. No middleman means the company can offer higher quality goods at lower prices than their competitors. Some of their products include gloves and knives. And with a sales staff of 30 people (and growing) made up of retired LEOs from across the country, the company has built both their products and their organization with the help of those in the law enforcement profession.
Gentry – whose impressive career in law enforcement began as a reserve officer and ended as a captain – is one of those retired officers.
First Tactical's team – whose experience in law enforcement ranges from SWAT, narcotics and undercover officers to those who worked in administrative positions – travels to different police departments to spread the word on the company's products and get feedback from agencies on what they'd like to see in their tactical apparel and gear.
Life after law enforcement
While many former officers choose to take up positions in more familiar realms after they retire – such as private security or loss prevention – First Tactical president Kelsie Costa says many officers are surprised by how good a fit they can be in business careers that may initially seem far removed from a life in law enforcement.
"It's interesting because people in law enforcement don't realize how well their skills translate to the private sector," Costa said. "They're managing people, policies, procedures, liability. They're managing a business already; they may just not see it that way."
And that doesn't apply only to those who worked behind a desk – Costa and Gentry made it clear that no matter what role one held in the industry – from a beat cop all the way up to a chief – the knowledge and experience gained on the job translates effectively to new career paths, such as sales.
"Police officers and firemen deal with the public on a regular basis – you learn to talk to everybody – you have to when you're out on the street. You can make that connection," Gentry said.
That connection, according to Costa and Gentry, plays a vital role in First Tactical's mission to serve those who serve.
"It helps because you're talking to other public safety officers and firefighters and paramedics – it's easier to connect when a sales rep has been there and has done what you're doing," Gentry said.
Making products cops want to buy
Product development at First Tactical is also guided and informed by those who have been out in the field.
In attendance at the more than 100 product development sessions the company holds yearly are chiefs and other decision-makers right alongside street cops – all providing their input on First Tactical's prototypes. Costa said the company's aim is to merge the needs of what police leaders are looking for in uniform products with the desires of those that work under them. And as the law enforcement landscape changes, so do those needs.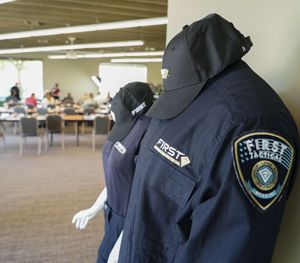 Some of the company's products. (First Tactical Image)
One of the biggest shifts in public safety now versus a few years ago, Costa said, is public perception.
"They [police officers] can't be looking like a commando walking down the street right now. It's that push and pull between functionality while still looking very professional."
Making products for every cop
Another big shift? The growing number of women in law enforcement. There are a significant amount of females going into the academy, according to Costa, but clothing and gear for women in law enforcement is still an afterthought for most companies that create tactical gear.
That's why First Tactical offers products specifically designed for women to address this issue – another example of the company's direct work with law enforcement professionals in the development of their products.
What all of this amounts to is a company that doesn't tell cops what they need, but asks them. From the inception of these higher-quality, lower priced products all the way to the moment they arrive in a police officer's hands, cops both inside and outside of the company have their hands in First Tactical.

Request information from First Tactical
Thank You!