Product review: 5.11 GEO 7 Camouflage
GEO7 is an exclusive pattern of camouflage available to the 5.11 line
---
More tactical teams have seen the benefit of utilizing camouflage in rural and urban environments to give their members even the slightest advantage. 5.11 Tactical's GEO7 collection does this without sacrificing absolute function and comfort. 
Made in conjunction with Veil Camo, GEO7 from 5.11 Tactical comes in two different shades, a multi-shade tan to green called Terrain, and a light grey to dark called Night. The pattern has a wide array of colors and the shapes are of a bubbly nature. The overall effect is quite impressive, breaking up the silhouette and blending in outlines with the surrounding foliage. 
For rural settings, the Terrain is an obvious go-to, mixing much of the greens and natural khakis, while the Night better fits the concrete jungle with its infinite shades of grey.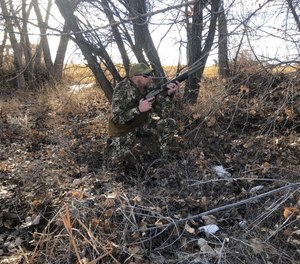 In-field testing of the GEO7 terrain
I tried out the GEO7 Terrain on a set of 5.11 Stryke TDU and was really impressed with the way I folded into the surrounding scenery.
At first glance, the GEO7 appears to be a little busy, but as soon as I stepped into the brush, I saw what an advantage this seemingly random display of shapes and shades offered. 
I tested in the winter fields of the northern plains of Colorado where just about everything but the evergreens had died back. Despite the strong environmental lean toward tans, the GEO7 blended beautifully. My outline was very broken up, even in direct sunlight. In places where I had direct contact with nature, the GEO7 blended so well as to be indistinguishable.
The Stryke TDU pants are extremely comfortable, offering a stretch waist and breathable mesh near the hip pockets. With 10 pockets in all, you can carry anything you need, including two AR mags in each thigh pocket. Other features like the breathable mesh on the back and pockets for knee pad inserts make these pants hard-use ready. Drawstrings also adorn the cuffs of the pants for blousing if that's your thing. 
The Stryke TDU Rapid Shirt has Velcro-cuffed sleeves so you can close them off tight or lock them in rolled-up fashion. The neck also features a zipper for breathability, as well as a Velcro flap closure for sealing things off. The bottom portion of the shirt is entirely made of mesh, designed to work underneath a plate carrier and offer the wearer the most breathability for cooling.
SHOT Show 2020
See the GEO7 line on display at the 5.11 Tactical booth at SHOT Show 2020. 
If you are going to SHOT Show, also drop by the Police1 booth to say hello, learn how we've secured over $150 million for departments through our Grant Assistance Program, and pick up some P1 swag.

Request product info from top Tactical Products companies
Thank You!