PRESS RELEASE
Celox Gauze Stops Severe Bleeding and Increases Survival Rates
---
Are You Carrying the Best? The '3-Minute' Gauzes...
Orlando, Fl. - Celox offers solutions to stop moderate, severe, and even life threatening bleeding. One of it's most recent products, Celox Gauze, combines the ground breaking Celox agent with a fabric dressing to control life threatening blood loss directly at the source of bleeding.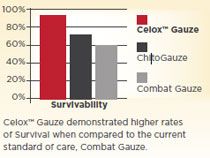 Celox™ Gauze is Clinical
Celox™ Gauze, designed and intended for the control of severe bleeding, o!ers numerous Clinical, Tactical, and Economical advantages over other '3-Minute' hemostatic dressings such as Combat Gauze™, Combat Gauze™ XL, and ChitoGauze™. When placed directly into a bleeding wound and subjected to pressure Celox™ Gauze absorbs blood and forms a muco-adhesive gel that seals the wound to stop the flow of blood. Unlike some other hemostatic agents, Celox™ does NOT use or release non-degrading, procoagulant minerals such as kaolin, which will remain in the body indefinitely unless completely removed. Instead, Celox™ utilizes chitosan, a compound of glucosamine, a sugar that is normally found in the body.
In a recent Navy Study, Celox™ Gauze clearly and consistently outperformed competitors in several areas relevant to a Combat or Tactical Medic. They include: Immediate Hemostasis (defined as a 3 minute compression period), Post-Application Blood Loss, and most notably, Survival. These features present initial and 'downstream' benefits for both the casualty and the medic making Celox™ Gauze the preferred choice of the '3-Minute' Gauzes.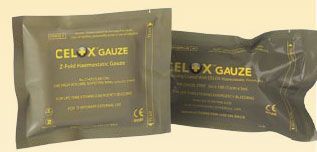 Celox™ Gauze is Tactical
You don't always get to choose your Phase of Care. '3 Minutes' of direct pressure begins after dressing application ends. 'Packs faster' can be the difference between your safety and tactical medical superiority for your casualty. Celox™ 5' Gauze is nearly 60% shorter in length compared to competitive products while filling the same size wound. The shorter gauze allows significantly faster wound packing. Celox™ 5' Z-Fold Gauze is intuitive, easy to handle, and reduces application time during all phases of care.
Celox™ Gauze is Economical
Celox™ Gauze does not double in price for double the volume. For massive traumatic wound packing, Celox™ Gauze 10' Z-Fold can provide the clinically desired additional volume WITHOUT the double Extra Large product price. A unit of Celox™ 10' Gauze is capable of packing more than twice the wound volume of some of its competitors.
About Celox™ Gauze
RAPID stabilization of hemorrhage is critical to reducing blood loss and associated morbidity in uncontrolled bleeding. Current hemostats recommend holding at least three minutes of compression during which time significant blood loss may occur. Celox Gauze is a hemostat that can control bleeding in a shorter time than today's treatments and yet is stable, affordable and easy to use.