PRESS RELEASE
Stop Bleeding to Gunshot, Blast, or Stab Wounds with Celox
---
Tactical Hemostasis...One Minute Matters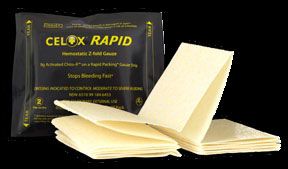 Orlando, Fl. - Celox introduces the first practical 'Hemostasis Under Fire' Z-Fold gauze. Nowhere does Stop Bleeding, Save Lives mean more than within the 'Platinum Ten.'
'Hemostasis Under Fire'
As enemy tactics have evolved, so too have the demands to provide care under increasingly chaotic and life threatening conditions. Celox™ RAPID defines Tactical Hemostasis and bridges the significant capability gap between emerging enemy tactics and the current standard of treatment for hemorrhage control.
Medic Force Multiplier
You know if you've been there: the medical and downstream tactical implications of multiple-casualty engagements demand high-speed, easyto-use 'Tactical Hemostatic' products. With Rapid Packing and Minimal Compression, Celox™ RAPID can reduce hemostasis to a minute or less expanding the medics' capabilities during 'platinum' time to care for other wounds or casualties. A 5' Celox™ RAPID packs faster, requires minimal to no additional post-application compression, reduces blood loss, and provides greater stability in evacuation compared to competitive products. Independent in vivo testing showed 100 % success in achieving hemostasis and reduced blood loss compared to other treatments. Celox™ RAPID has also been tested in a model of casualty evacuation, achieving 100 % successful transport without re-bleeding.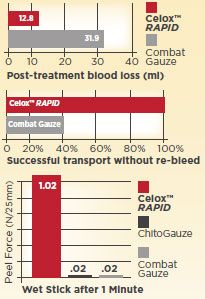 Rapid Packing
Celox™ RAPID 5'Z-Fold packs faster than other 12'competitive gauzes. RAPID has demonstrated faster packing in both In Vitro and Field Testing. On average, the time taken with Celox™ RAPID was half of the time with either of the other two products (Combat Gauze™ and ChitoGauze™).
Rapid Compression
Celox™ RAPID speeds up compression time. This is demonstrable based on in vivo results that are similar or better after one minute than results after three minutes compression for ChitoGauze or Quikclot Combat Gauze in previous studies. Based on independent study, Celox™ Rapid can eliminate the compression step entirely after packing.
Stability in Evacuation
Celox™ RAPID maintains its volume and adhesion to wet tissue during use, helping it to stay in place during patient transport and maintain hemostasis during transit. In comparative testing against Chitogauze and Combat Gauze, Celox™ RAPID demonstrated significantly stronger adhesion after treatment at time intervals of one minute, three minutes and twenty minutes. Because Celox™ RAPID sticks to wet tissue, its use results in performance benefits including hemostasis speed, reduced blood loss and safer transit of severely wounded patients.
Reduced Blood Loss
Celox™ RAPID demonstrated decreased secondary blood loss in comparison to Combat Gauze. The positively charged activated chitosan in Chito-R™ rapidly absorbs blood. This process creates a robust gel plug over the bleeding source independent of the body's intrinsic clotting cascade. The activated chitosan in Chito-R is a compound of glucosamine and N-acetyl glucosamine, naturally occurring basic sugars. Celox™ RAPID with Chito-R™, addressing the significant capability gap of the current standard of treatment for hemorrhage control. Celox™ RAPID can eliminate the compression step entirely after packing.