5 reasons law enforcement agencies should consider the Safe Fleet FOCUS H2 with ALPR – an integrated Vehicle Detection and License Plate Recognition system
Powered by AI, this system is a valuable investment for police departments
---
By Police1 Staff
Law enforcement agencies have long recognized the value of automatic license plate recognition (ALPR) technology to help identify and locate vehicles of interest quickly, support criminal investigations and enhance public safety.
However, traditional ALPR systems are typically complex standalone solutions, requiring expensive, specialized hardware. Because of this, they are often relegated to a small fleet of specialized units.  To address these challenges, Safe Fleet developed Safe Fleet FOCUS H2 with ALPR, an advanced computer vision system that operates on the Safe Fleet FOCUS In-Car Video platform.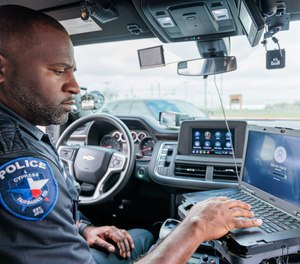 Safe Fleet FOCUS H2 with ALPR is rapidly and efficiently deployed across large fleets, empowering agencies to implement ALPR on a wide scale. This drives improved agency hit rates, more efficient metadata collection and improved officer safety. Functioning in the background of the FOCUS In-Car Video System, Safe Fleet FOCUS H2 with ALPR seamlessly notifies officers of hotlist matches as they occur, limiting officer distraction, while improving situational awareness, response time and officer safety.
There are many reasons to consider the Safe Fleet FOCUS H2 with ALPR platform – its useability and design features come to mind. For the purposes of this article, we'll focus on business drivers. So here are the top five business reasons an agency should consider the Safe Fleet FOCUS H2 with ALPR platform:
1. AI-powered and future-proof
Safe Fleet FOCUS H2 with ALPR uses AI machine learning, powered by an NVIDIA GPU. This allows for over-the-air updates to improve features, capabilities and protect law enforcement agencies from obsolete equipment. AI technology also reads standard and vanity plates from all states, including stacked characters, and odd angles, surpassing the functionality of the best traditional ALPR systems.
Future-proofing the system, AI adapts to changing technologies and provides continued and ongoing value to law enforcement agencies.
2. Image metadata and increased hit criteria
Safe Fleet FOCUS H2 with ALPR provides rich metadata and can identify license plate, vehicle make, model, type and color and detect the state of registration. Its machine learning algorithms read plates in any format, as opposed to legacy solutions that need to be tuned for each state's plates. The level and quality of data captured by the ALPR system increases the hit criteria and makes it possible for law enforcement officers to easily identify vehicles of interest, and improve hit rates and overall safety.
3. Integrated systems
Safe Fleet FOCUS H2 with ALPR manages ALPR data (configurations, searches, hotlists) in the same platform as the digital evidence management system (DEMS). This eliminates the need for separate systems, making it easier for law enforcement officers to access and utilize data. Sharing a back-office platform also reduces costs and officer training time. Additionally, the system integrates with external platforms to share hits and ALPR information, enhancing collaboration and sharing between different agencies.
4. Cost saving
Safe Fleet FOCUS H2 with ALPR is a cost-effective solution for law enforcement agencies. By combining the dashcam, ALPR hardware, CPU and cameras, the system reduces the total cost of ownership compared to other ALPR systems. Vehicle downtime and upfitting costs are also reduced. Agencies can cost-effectively expand ALPR functionality across entire fleets, rather than only for specialized units. 
5. Space saving
One of the biggest advantages of the Safe Fleet FOCUS H2 with ALPR system is it saves space in the vehicle. Instead of having separate dashcam and ALPR systems, the Safe Fleet FOCUS H2 with ALPR utilizes an in-cab, low-profile internal camera with machine vision. This eliminates the need for bulky, externally mounted infrared solutions that are often subject to damage and vandalism. Combining cameras, processors and screens for both in-cab and ALPR systems frees up valuable real estate in the vehicle. This creates a safer, more spacious cab, and frees up vehicle trunk and equipment rack space.
ALPR does not have to be expensive and complex to be effective. The system's space-saving, cost-saving, rich metadata, increased hit criteria, integrated systems and AI-powered features make it a valuable investment for any law enforcement agency. Additionally, the system's simple and cost-effective expansion to an existing dashcam solution makes it accessible to all law enforcement agencies, regardless of their size or budget. 
For more information, visit SafeFleet.
Police1 is using generative AI to create some content that is edited and fact-checked by our editors. 

Request information from Safe Fleet Law Enforcement
Thank You!