Spotlight: Kustom Signals Inc., your complete traffic safety equipment source
More than 50 years of innovation and dedication to your Agency's success have made Kustom Signals a leading, globally recognized brand in law enforcement
---
Company Name: Kustom Signals Inc.
Headquarters: Owensboro, Kentucky
Website: http://www.kustomsignals.com/
Dedicated to serving the public safety equipment needs of law enforcement since 1965, Kustom Signals, Inc. designs, manufactures and markets traffic speed radar, lidar, in-car video systems and mobile roadside speed monitoring trailers.
1. Where did your company name originate from?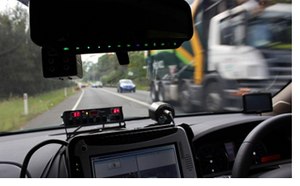 Our name comes from our original business; We started out building custom amplifiers back in 1965 and grew from there.
2. What was the inspiration behind starting your company?
A lot of big musicians used our amplifiers back in the day. That knowledge of transistors led to the start of our foray into radar technology.
3. What is your signature product and how does it work?
Kustom Signals has three significant product lines: speed enforcement which includes RADAR and LIDAR, video products including in-car video and body-worn video and speed aAwareness including trailers and pole mounted displays.
4. Why do you believe your products are essential to the police community?
We work hand-in-hand with law enforcement to make their work more efficient and safer.
5. What has been the biggest challenge your company has faced?
The financial challenges placed on law enforcement.
6. What makes your company unique?
Kustom Signals, Inc. has been dedicated to serving the public safety equipment needs of law enforcement for more than 50 years. We strive to be the worldwide leader in speed enforcement, the most trusted provider of video evidence solutions and the recognized leader in customer satisfaction.
7. What do your customers like best about you and your products?
Our commitment to being a trusted provider. Our customer service is incredible.
8. Do you support any charitable organizations within public safety/community? Tell us more.
Kustom Signals annually contributes to the Fallen Officers fund.
9. Is there any fun fact or trivia that you'd like to share with our users about you or your company?
We started out in the rock-n-roll business!
10. What's next for your company? Any upcoming new projects or initiatives?
Look for the our revolutionary new RADAR, the Eagle 3 , in 2018!
Request information from Kustom Signals Inc.
Thank You!