PRESS RELEASE
Laser Ally LIDAR On Multi-State Contract
---
Digital Ally, Inc., which develops, manufactures and sells advanced speed enforcement, video surveillance and thermal imaging products, announced it has been awarded a contract on its Laser Ally Handheld LIDAR from the State of Washington and the Western States Contracting Alliance (WSCA).
WSCA is comprised of: Alaska, Arizona, California, Colorado, Hawaii, Idaho, Minnesota, Montana, Nevada, New Mexico, Oregon, South Dakota, Utah, Washington, and Wyoming. This contract may also be used by any other State with authorization of the WSCA directors and subject to approval of the individual National Association of State Procurement Officials (NASPO) State Procurement Director and local statutory provisions.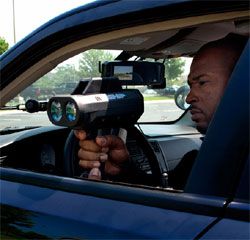 So far, in addition to the State of Washington, the following States have signified their intent to participate in this contract: Alaska, Arizona, Colorado, Delaware, Hawaii, Idaho, Louisiana, Montana, Nevada, New Mexico, North Dakota, Oklahoma, and Vermont.
The contract allows law enforcement entities to purchase the Laser Ally at a $500 discounted price without having to go out for bid. This contract is effective from Oct. 31, 2011 through Oct. 30, 2013. 
Laser Ally allows officers to pinpoint individual vehicles in congested traffic through windows or bad weather and track through fence posts, signs, etc. The system also provides safe, fast and accurate measurements at crash or crime scenes and other applications. It was designed for comfort and convenience and is highly ruggedized for law enforcement use. Laser Ally acquires targets in only .3 seconds and utilizes true continuous tracking, automatic accuracy checks and safeguards and more.
For more information, contact Digital Ally at 800-440-4947, sales@digitalallyinc.com or visit www.digitalallyinc.com.
About Digital Ally, Inc.
Digital Ally provides a complete line of digital in-car video systems integrated into a rear-view mirror; a waterproof digital video system that is modular to fit motorcycles, boats, or any other motorized vehicle; compact video system that may be worn or mounted; digital video flashlight; thermal imaging camera; and LIDAR handheld speed enforcement gun.