Pioneer of scenario-based police training products dies
Guido Tanzini, 85, of Trenton, N.J. founded Dummies Unlimited
---
By Police1 Staff

WALNUT, Calif. — A pioneer of scenario-based police training products died before the holidays, Police1 learned Monday.
The long life of Trenton, N.J., native Guido J. Tanzini — he was 85 when he passed — included a stint in the US Army before he began developing the first baton training dummy in 1957, according to a tribute. Featuring human-like attributes, Numb John could endure thousands of baton strikes.
After some fine-tuning over the next decades as batons became more sophisticated and the less-lethal market expanded, Numb John began to resemble the model it is today, with a vinyl coating and a tougher exterior. Most agencies use it as a static training dummy for real baton strikes, incorporating other scenarios with Fist or Red Man suits and a practice baton.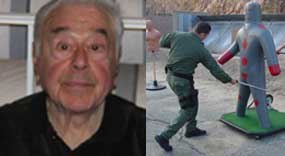 Tanzini was actively involved in the law enforcement community and attended IACP annually over a 35-year stretch, until travel became difficult, according to son Phil Tanzini, Director of Operations at his father's company Dummies Unlimited Inc.

"He lived a full life at 85, and did not suffer much," Phil Tanzini said. "He'll be missed."