Prescott partnership brings free community relations training to law enforcement
With an assist from the star QB, Lexipol will offer an expanded video version of the landmark CYCLE course
---
By John Erich, Lexipol Staff
Kim Vickers was a cop for more than 40 years. He reached policing's highest levels, serving as president of the International Association of Directors of Law Enforcement Standards and Training (IADLEST) and executive director of the Texas Commission on Law Enforcement. But he hadn't experienced a program like CYCLE.
"I have never, in my history of law enforcement training, seen that type of training," Vickers told "USA Today" for an article in September 2022. It was "extremely beneficial," he added, and its content on adolescent brain development "mesmerized" him.
CYCLE – which stands for Connecting Youth and Communities with Law Enforcement – was developed several years ago by Fight Crime: Invest in Kids, a member organization of the Council for a Strong America. Now, with an assist from the National Football League's 2022 Walter Payton Man of the Year, Dallas Cowboys quarterback Dak Prescott, the course has been expanded with new content important to police, and later this year Lexipol will make it freely available to every law enforcement agency in America, with the first courses coming soon. 
Working to bridge the gap
The Walter Payton Man of the Year Award is about off-the-field excellence as well as on-, and Prescott stands out in both spheres. In seven NFL seasons, he's thrown for 166 touchdowns and almost 25,000 yards, been Offensive Rookie of the Year and made the Pro Bowl twice. And through his Faith Fight Finish Foundation, he's known for philanthropic efforts in areas like colon cancer research and improving mental health and ending suicide. (Prescott lost his mother to colon cancer in 2013 and his brother to suicide in 2020.)
Another core foundation priority is improving relations and building trust between law enforcement and youth in their communities. Prescott embraced that cause following the killing of George Floyd in 2020, pledging $1 million to "improve police training and address systemic racism through education and advocacy." That includes helping spread the CYCLE training. The foundation describes it a "high-level curriculum specifically created to begin the process of transforming police interactions with community members."
CYCLE was developed as a 16-hour course that covered eight areas: contemporary issues in law enforcement; listening skills; implicit bias; adolescent brain development; de-escalation; trauma-informed response; building rapport in the community; and scenario role-playing. Prescott spearheaded the addition of two more modules, on mental health awareness and community service. The program is endorsed by the Justice Department's Office of Community Oriented Policing Services (COPS) and certified by IADLEST. Jaime Castro, Latino community liaison for the Dallas Police Department, said its curriculum was "night and day" different from the "warrior mentality" he was taught on joining the department in 1999.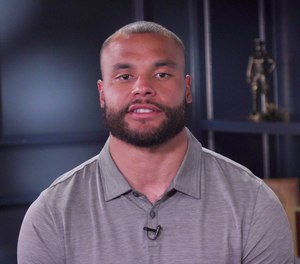 Prescott's commitment has also led to a partnership with Lexipol, which is using its reach to help spread the CYCLE training to officers and agencies across the country. It will offer the free course online through its Police1 Academy, with several hours of built-in training and sections for community resources.
"Improving police-community relations starts with education," former Lexipol CEO Chuck Corbin said in announcing the collaboration, "so we are excited to have the opportunity to work with Faith Fight Finish to develop and distribute this important training."
"The more law enforcement professionals and community members have conversations, the better and safer police interactions will be for young people," added Prescott. "We know we can bridge the gap between law enforcement and the communities they serve with Lexipol. Lexipol will allow us to reach law enforcement agencies across the country to implement the CYCLE training into as many communities as possible!"
Lexipol has a presence in all 50 states and will market the course nationally.
Educating each other
Besides advancing the training, Faith Fight Finish (FFF) has hosted town hall meetings that bring together police leaders, youth of color and other community stakeholders for frank conversations aimed at sharing concerns, exchanging perspectives and humanizing everyone involved. It brings police to schools for workshops hosted by Officer Ryan Tillman, who founded Breaking Barriers United for similar purposes after the 2014 death of Michael Brown in Ferguson, Missouri and helped develop the online CYCLE training. It has hosted events like a barbecue for officers and student-athletes and a "backpacks and hoodies" event where students explained why they liked and used the garments and officers explained why they can raise suspicion. 
One of those town hall meetings, held last year in Dallas, was the subject of September's "USA Today" profile. Prescott was joined by a pair of police chiefs and two high school students of color, as well as a mental health specialist and superintendent from the local school district. Around 200 students sat in. Said Prescott of the events, "I've got to put all these police officers and I've got to put the community in uncomfortable positions for us to grow and create this empathy, so we can educate each other that we are the same."
Like many Americans, Prescott was angry about the murder of Floyd. Unlike many, he channeled that into a positive: working to enhance understanding on both sides. He became educated about the variations in law enforcement training and deficiencies in mental health and wellness support provided to many officers. That aligned with another of Faith Fight Finish's priorities – its efforts to support mental health and prevent suicide – and helped motivate his expansion of the CYCLE curriculum.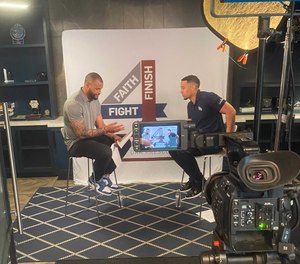 That had special relevance during the initial First Responder Wellness Week, held March 27–31. "When I realized what our police officers are doing, I'm like, 'Man, that's scary,'" Prescott told "USA Today." He realized they needed more support and a healthier foundation from which to operate. "It all starts with your mental health," he added.
Established by Lexipol, First Responder Wellness Week is dedicated to providing resources, support and community to help first responders better understand the mental and physical health risks that come with their jobs. Its daily themes include functional fitness, sleep and fatigue, nutrition, mental health and healthy coping strategies. Prescott shared a video greeting for the event here.
The second annual First Responder Wellness Week is planned for March 2024.
---
About the author
John Erich is a career writer/editor with more than two decades of experience in emergency services media, currently serving as a project lead for branded content with Lexipol Media Group.