PRESS RELEASE
New Release By Looseleaf Law Candidly Confronts Policing and the Racial Divide
---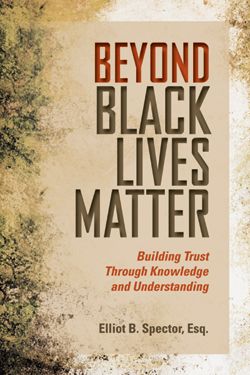 FLUSHING, N.Y. — Looseleaf Law Publications announces the release of Beyond Black Lives Matter: Building Trust Through Knowledge and Understanding by seasoned attorney Elliot Spector. Designed to take a candid, evidence-based stand against the proliferation of unfounded accusations of racially-driven police misconduct, this important new release aims to spotlight fact in a haze of fiction and give voice to reality in the midst of a roar of rhetoric. "In an era characterized by extraordinary levels of highly-charged emotionalism, the truth can quickly become clouded, if not completely eclipsed," says Looseleaf President Michael Loughrey. "Certainly, incidents involving police misconduct can occur. We've all seen examples of this highlighted in the media and in high-profile protests and I believe you would be hardpressed to find someone who doesn't agree that misconduct should be dealt with seriously. However, using those situations as the basis by which all law enforcement officers are judged is not appropriate. Ensuring that evaluations of the effectiveness and appropriateness of law enforcement are non-biased and fact-based is critical not only for maintaining public safety but for preserving the integrity of the entire justice system."
Throughout the book, Spector takes a courageously candid look at the real data behind police encounters with minority communities and what research actually shows in regard to the use of justified deadly force while injecting important information related to the heavily controlled processes of police work and the rigors involved with earning the right to be sworn into one of the most powerful professional positions in the country. "This is not a book designed to diminish the extraordinary impact police misconduct can have on individuals and society as a whole," says Loughrey. "Rather, it is a book designed to factually educate readers on what the numbers reflect in regard to the real relationship between law enforcement professionals and the communities they protect nationwide. If one were to myopically listen only to the media and certain activist groups, the state of the nation would appear dismal and hopeless. Thankfully, discerning individuals like Elliot Spector are driven to surface the truth… and that truth paints a far more hopeful picture."
Beyond Black Lives Matter: Building Trust Through Knowledge and Understanding ($29.95, 256 pgs., Softcover, ISBN: 978-1-60885-183-6) is available directly from Looseleaf Law Publications by visiting their online catalog at www.looseleaflaw.com or calling toll-free: (800) 647-5547.
About Looseleaf Law
For over forty years, Looseleaf Law Publications, Inc. has provided quality law enforcement training texts, criminal justice study aids, and legal reference materials to in-field professionals, educators and students nationwide. Founded on the principles of innovation, accuracy and fair pricing, Looseleaf Law stands as one of the most respected publishers in the industry.

Request more info from Looseleaf Law
Thank You!