PRESS RELEASE
Rick White Releases Fiction Crime Novel "The Charon Unit," That Follows An Elite Gang Unit
---
An elite unit struggles to find and maintain peace in a dangerous and broken world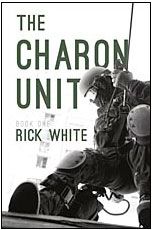 Texas - "The Charon Unit" is an action-packed crime fiction novel, the first part of a trilogy series based on the formation of a covert gang unit and will be released on May 29, 2012.

The name of the unit, Charon, comes from Greek mythology referring to the boatman that ferried the dead across the River Styx into Hades.

Synopsis: The Charon Unit is comprised of 20 of the U.S.'s most elite gang investigators and was formed in order to identify, extract, interrogate and dispose members of a hybrid gang, the Down South Riders, after they launch a tactical assault during a private political function. In the attack, 44 people are murdered, with victims including U.S. Senators and U.S. Congressmen.

About The Charon Unit
"The Charon Unit" is written by Rick White and published by Tate Publishing. It will be available as a paperback or as an eBook download and is compatible with most eBook readers including Sony Reader, Nook, Kindle 2, iPad and iPhone 4. Rick White is currently a detective in Texas, served in the U.S. Army, has obtained his Master Peace Officer's License and has trained over 4, 000 peace officers since 2007. For more information visit the official website for the book at www.thecharonunit.com and 'Like' the official Facebook page.