PRESS RELEASE
Public-Facing Documents increases transparency and trust for law enforcement agencies
---
New PowerDMS premium feature provides a solution for agencies to share their most current policies and procedures, and other critical content, with the communities they serve.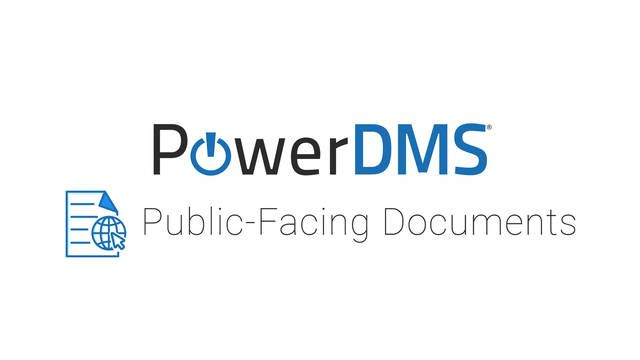 ORLANDO, Fla. — In response to increased demand for law enforcement compliance with accreditation standards, legal requirements, state mandates, and public records requests, and to enhance community trust and transparency, PowerDMS—law enforcement's leader in policy and training management technology— announces the launch of Public-Facing Documents.
This add-on feature for the software's leading Policy module gives designated users the ability to publish policies and other critical content to their agency's website for members of the community to view and download.
"In 2015, the state of Maryland passed legislation requiring all law enforcement agencies to post official policies on their agency's website for the community to view," shared Robert Who, What at Baltimore Police Department. "With Public-Facing Documents and PowerDMS, in two clicks we can meet this requirement and ensure our citizens have access to the most current policies and procedures—the same ones our officers are referencing daily."
Uploading critical documents to an agency's website is not a new concept—law enforcement agencies have been doing this for years. However, the process is often tedious, involves an IT department, and leaves room for misrepresentation and mistakes.
"When our customers told us how they share required documents with their communities, we knew they needed a simpler, more trustworthy solution," said Heath Hensley, Chief Technology Officer at PowerDMS. "With Public-Facing Documents, when a user updates something in PowerDMS, those updates are automatically reflected in the published version on the public-facing site. This eliminates any possible discrepancy between the policy used internally and the one the public sees."
Public-Facing Documents is available, at an additional annual fee, to PowerDMS customers using the software's Policy module.
About PowerDMS
PowerDMS, headquartered in Orlando, Florida, is a cloud-based policy management software company. The application provides practical tools to organize and manage crucial documents and industry standards, train, and test employees, and uphold proof of compliance, thereby helping organizations reduce risk and liability. PowerDMS simplifies document management through powerful collaboration, process, and automation.

Request more info from PowerDMS
Thank You!