Spotlight: Action Target's range products enable LEOs to safely train, prepare for real-world encounters
Action Target offers everything a range needs from ballistic protection to lighting, ventilation and range security
---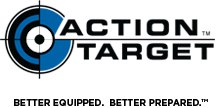 Company name: Action Target Inc.
Headquarters: Provo, Utah
Signature Products: Steel Total Containment Trap and Wireless Genesis Target Retriever
Website: https://actiontarget.com/
1. Where did your company name originate from? 
Most of the other companies in the industry had "target" in their name, so incorporating the same word made sense. The word "action" was chosen to represent the dynamic nature of the original product line, plus it starts with "A" so it would show up first in printed listings since websites were not a thing then. True story.
2. What was the inspiration behind starting your company?
The company's founders, Addison Sovine and Kyle Bateman, had been business partners in other ventures. The Sovine family owned an auto body shop so they were familiar with metal working. The Provo Police Department was familiar with the Sovine body shop, and they asked Addison and Kyle if they could put together a target system for their range. After a few prototypes, they came up with something that the police department really liked and the rest is history.
3. What is your signature product and how does it work?
Our two signature products are the Steel Total Containment Trap (TCT) and the Wireless Genesis Target Retriever. 
The TCT is the safest, strongest and most eco-friendly steel bullet trap in the world. It provides complete ballistic coverage, even when firing cross-lane, making it ideal for fixed firing line and tactical training ranges. The TCT requires minimal maintenance and is equipped with the most efficient lead collection system available, keeping shooters, employees and the environment safe.
The Genesis is a wireless target retriever with an integrated 360-degree turning head. This allows shooters to train on threat/no-threat targets as well as advancing and retreating targets. Pre-programmed as well as fully-custom programs allow trainers to present law enforcement with real-world dynamic training.
4. Why do you believe your products are essential to the law enforcement community?
Our law enforcement community requires equipment that enables them to safely train in dynamic settings, preparing them for real-world encounters. 
Our range products are designed with safety first, followed by functionality. We are able to present threat/no-threat targets that are both static and moving side to side or front to back in a range. Officers are able to be trained on advancing targets, laterally running targets or stationary targets in a controlled environment. 
By controlling range lighting as well as the target's exposure, threat level and position, trainers are able to properly train law enforcement to react in any situation. Thanks to advanced bullet traps and impact walls, officers are able to train 180 degrees indoor.
5. What has been the biggest challenge your company has faced?
The biggest challenges Action Target has faced would include the years of extreme growth and the struggle to build the business fast enough to keep up, and the several massive overseas projects that dominated so many of our resources.
6. What makes your company unique?
Action Target is unique for a few reasons. First, we are the most integrated range provider in the industry.  We offer everything a range needs from ballistic protection to lighting, ventilation and range security. 
Furthermore, we've integrated range controls into one platform called SmartRange Axis. SmartRange Axis simplifies range control by integrating target systems and ventilation into one screen. 
Additionally, once the range is operational, Action Target offers the most diverse portfolio of range services. From general maintenance and service to rubber berm trap cleaning, metals recycling and a full store of products. Literally, Action Target offers all products and services required to build and maintain a range for life.
In addition, Action Target is unique due to the diverse set of technologically advanced products it has invested in over the years. From hit-detecting Autotargets, laterally running movers and wireless target retrievers to smart range controls and integrated ventilation, Action Target continues to push technology into the range industry.
7. What do your customers like best about you and your products?
Action Target customers love that we are a true turnkey solution. From design to installation, we cover everything you need for a range. This includes ballistic protection, ventilation, target systems, lighting, paper and cardboard targets, and even cleaning supplies and full services such as rubber berm trap cleaning. We also have cross-trained service techs that can provide full-range services. This simplifies our law enforcement officers' lives as they do not have to manage several venders to maintain their range.
8. What is the most rewarding part of serving the first responder community?
Providing our first responders with equipment that enables lifesaving training is the absolute most rewarding part of serving the first responder community. From threat assessment and real-world training to clearing rooms in a multi-story shoot house, our equipment allows trainers to safely equip our first responders with the knowledge they need to return home every day.
9. Do you support any charitable organizations within public safety?
For over 28 years, Action Target has given back to the law enforcement community through our Law Enforcement Training Camp. Action Target brings out top trainers for a four-day camp that covers relevant topics. This helps prepare not only those who attend, but the departments of the trainers that attend with lifesaving knowledge and skills. 
10. Is there any fun fact or trivia that you'd like to share with our users about you or your company?
Action Target is unique in the shooting industry because we offer everything from paper targets, steel targets and complete indoor and outdoor ranges to massive training complexes and a full line of range maintenance and services.
11. What's next for your company? Any upcoming new projects or initiatives?
We are continuing to build on our SmartRange Axis range control platform. This will continue to expand and control more within a range, and will continue to both simplify range operation and expand training capability.