How to buy driving simulators (eBook)
Download this Police1 driving simulators buying guide to learn key steps for product selection, purchasing and implementation
---
To download your free copy of "How to buy driving simulators (eBook)" Buying Guide from Police1, fill out this form.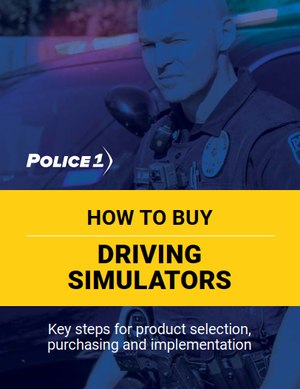 Most police officers spend a substantial portion of their shift behind the wheel, and roughly half of all line-of-duty fatalities are vehicle related.
Part of the reason police don't drive better than they do is inadequate, infrequent training. Highway patrols and state police tend to do a good job at training in emergency vehicle operations, but local police might get a week or so of intermittent behind-the-wheel (BTW) time during the basic academy, and then not receive any refresher or update training for years, if ever.
A driving simulator can't replace a BTW course, but it can supplement it and serve as a refresher between "live" sessions. With a modern simulator, police trainers can create almost any scenario, run them as many times as needed, and produce documentation of the student's performance, all without burning a drop of gas.
This Police1 How to Buy Driving Simulators guide – whether you are leading a driving simulator purchase for the first time or are looking to upgrade your current system – is a starting point for the several months or more procurement process.
Included in this guide: 
Key considerations before purchasing driving simulators
Top implementation considerations
Questions to ask vendors
To download your free copy of the "How to buy driving simulators" Buying Guide from Police1 fill out this form.