Implementing a drone program can bring benefits to your department
Learn how to protect your investment through a straightforward solution
---
Sponsored by TruckVault
By Courtney Levin, Police1 BrandFocus Staff
The ability to make a police officer's job easier through technology is becoming increasingly commonplace. While the benefits of tech investments such as body-worn cameras have been clearly demonstrated, the expense of implementing a drone program may bring up more questions than answers.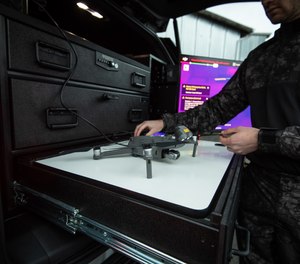 Despite the initial cost, departments across the nation find that drone programs significantly benefit their investigation efforts. Smaller municipalities operating with tight budgets can increase the efficacy of their search and rescue efforts with just one drone, while larger agencies can leverage an entire line-up of equipment for use in a variety of scenarios.
If you're wondering if a drone program can truly benefit your agency, there are several factors to consider that will help to inform your purchase and ensure you get the most out of your equipment.
DEALING WITH HIGH-RISK SITUATIONS
Officer safety should be at the forefront whenever a new type of technology is introduced, as these purchases are designed to help, not become a hindrance. Not only can drones help a department save time when conducting searches, but one of the primary reasons for using such equipment is to keep officers out of harm's way.
"In an unknown tactical high-stress environment, we can send a robot in and let it do the heavy lifting for us," said James Bushey, chief of police in Linn, Wisconsin and UAS training instructor with Adorama Business Solutions. "Then, we can send the appropriate team members in after to do the work more efficiently and safely."
Drones can often mitigate the human risk factor, as these machines can enter a dangerous situation and provide decision-makers with a real-time look at what's unfolding. Instead of having to break down a door not knowing what kind of threat is behind it, for example, a drone can breach a window and perform reconnaissance in the building, reducing the risk for all involved.
MANAGING CHALLENGING ENVIRONMENTS
Rather than sending multiple officers into the field to track a perpetrator or a person needing rescue, one drone operator can cover an expansive area in a short period. While efficiency is certainly key, using drones can also allow individuals to overcome limitations like darkness and equip them to perform searches in challenging or hazardous environments and weather.
Both thermal and night vision cameras are popular choices when evaluating drone units as these devices can conduct faster nighttime searches without putting anyone in danger. Once a suspect or lost person has been detected, arresting officers or rescue crews can head in exactly the right direction.
Drones can help departments save time even if there isn't dangerous terrain at play. Sometimes, the sheer geographical layout of a jurisdiction can present challenges. In Linn, Wisconsin, a 26-square mile lake nearly bisects the department's territory. Being able to leverage technology to get to the other side of the lake faster helps to expedite his department's efforts, says Bushey.
FACTORS OF DRONE PROGRAM IMPLEMENTATION
Purchasing a drone for your department can open a wealth of opportunities, but it's important to consider what your specific needs are before you buy. While your budget will likely dictate the features of your drone program, there are a variety of options within even the smallest spending limits.
Some departments that plan on using a primary drone may want to purchase an additional, lower-cost model as a practice unit. It's unlikely that every member of your team will be a skilled drone operator at first, so the use of a less expensive unit might make sense during the initial learning curve.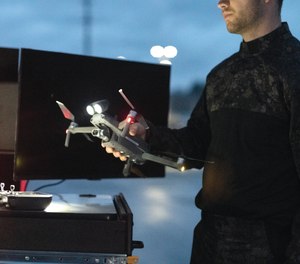 Beyond purchasing drone equipment, another key factor to acknowledge is the need to store and transport your gear. Will you be sharing your drone equipment with the fire department? Does your department need power and video monitors on-site? How will you ensure adequate protection of your equipment while still being able to deploy it quickly?
Each agency will need to determine what their daily drone operations look like and purchase storage solutions accordingly. One popular choice is a preconfigured option from TruckVault, available from Adorama. Departments with the desire to customize their options, like Linn PD, can also work with TruckVault directly.
"We didn't have to build these kits in our garage ourselves," said Bushey. "We could have one that was professionally built by TruckVault that's well thought out and had everything we needed in a one-stop-shop ─ and for less than what we were building it out for piece by piece."
MULTIPLE STORAGE CHOICES
TruckVault's Drone Responder line considers the various needs of an agency's mobile drone program and makes it easy to streamline your storage options. From designs with just a few locking drawers to fully customized solutions that house a monitor and power source, the Drone Responder line allows for rapid deployment of your drone.
Agencies with tight budgets may be averse to investing in drone storage solutions after paying for their new equipment, but the initial expense can quickly pay for itself. For instance, in King County, Washington, a search helicopter costs approximately $2,000 per hour.
TruckVault's top-of-the-line Drone Responder solution is roughly four times that cost. Instead of spending thousands of dollars each time you need to perform an aerial search, departments can make a one-time investment that lasts.
Many departments across the nation have found value through implementing a drone program but it's important to remember that the equipment is only one part of your investment. Your agency can exercise the benefits of drone units to the fullest when they're safely stored and secured using TruckVault's Drone Responder storage solutions.
Visit TruckVault for more information.
Read next: How this Tesla functions as a cop car without looking like one

Request information from TruckVault
Thank You!