Why a total vehicle solution for outfitting public safety makes good sense
Choosing one expert source to provide consoles, mounting solutions, storage and other fixtures ensures the best fit, performance, space maximization and safety for patrol officers
---
Sponsored by Gamber-Johnson
By Police1 BrandFocus Staff                     
Today's public safety vehicles have to haul a lot of equipment while still leaving sufficient space for officers to do their jobs comfortably and safely.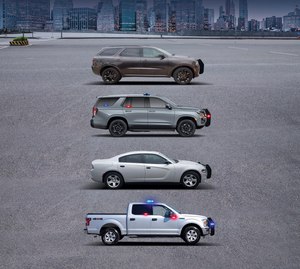 Laptop computers, printers, radios and other necessary devices can use up a lot of space within the average patrol car cockpit. Factor in the need to carry weapons and other cargo, secure suspects safely in the back seat and protect officers with interior and window barriers, and making all of this fit into a standard public safety vehicle is no easy matter – especially if the products come from various vendors and don't "play nice" with each other.
Public safety equipment manufacturer Gamber-Johnson understands the importance of equipping police vehicles in a space-efficient manner. They know that an officer's ability to access in-car technology quickly can make the difference between life and death. This is why the company, best known for its console, cradle and docking solutions, has branched out into all aspects of public safety vehicle compartments – not just consoles, but mounts, gun racks and cargo/storage compartments, push bumpers and protective structures.
A one-stop-shop
Gamber-Johnson builds rugged, durable products expressly designed for the demanding public safety working environment. The company's goal is to provide public safety agencies of all kinds with a total vehicle solution for outfitting their cars, SUVs, vans and trucks.
Purchasing everything from one expert source reduces costs, as well as the time spent to find and install this equipment, while also ensuring compatibility and interoperability between systems. Having products from a single manufacturer helps simplify and speed up the fleet outfitting process, as well as during fleet maintenance and upgrades.
Gamber-Johnson's rugged, reliable products are available for the five top-selling vehicles in public safety:
2021+ Chevrolet Tahoe.
2020+ Ford Police Interceptor Utility.
2015+ Ford F-150.
2018+ Dodge Durango.
2011+ Dodge Charger.
Custom installations for other vehicles are also available.                          
A complete product suite
Gamber-Johnson's comprehensive product suite for public safety vehicles includes cradles and docking stations for the most popular rugged laptop computers and tablets, as well as universal cradles.        
Public safety vehicles need other kinds of vehicle mounts as well, and Gamber-Johnson has them covered with a variety of pedestal systems, console systems, mobile workstation boxes, faceplates, dash mounts, motion attachments, keyboard mounts and printer mounts.
Then there's the rest of the necessities to keep officers properly equipped and protected. Again, Gamber-Johnson has them all, including gun mounts, partitions, push bumpers, truck racks, truck mounts and window guards.
3 key benefits of using a single supplier
The financial and operational stakes associated with making the right public safety buying decisions are extremely high. This is why the three key benefits of single expert sourcing are worth exploring in depth.
First, by purchasing everything from a single expert source, public safety agencies save time looking for the right components. They can also be assured that these systems will work smoothly with each other and avoid unexpected problems that can arise from trying to mix one manufacturer's products with another.
This is no small matter: Incompatible systems can cause serious issues for public safety agencies during installation, maintenance and usage. In today's tight fiscal climate, no one can afford this kind of trouble.
Second, buying equipment from a single expert source speeds up shipping and reduces the number of deliveries. Time is further saved by selecting a U.S. company such as Gamber-Johnson. Their "Made in Wisconsin" manufacturing model means that everything is coming from one U.S. location, rather than being delayed by overseas shipping issues – a particular benefit given the supply chain challenges brought on by the COVID-19 pandemic.
Third, the durable materials and designs used by Gamber-Johnson, in tandem with the company's focus on supporting popular public safety vehicles with both specific and universal products, simplifies fleet outfitting for agencies of all sizes. This saves everyone time and money, both of which are in short supply these days.
This is why Gamber-Johnson's total vehicle solution makes sense for public safety agencies nationwide.
For more information, visit Gamber-Johnson.
Read Next: A comprehensive and convenient vehicle solution in one single SKU

Request information from Gamber-Johnson
Thank You!