PRESS RELEASE
Gamber-Johnson receives the 2023 Presidential "E Star" award for exports
---
STEVENS POINT, Wisc. - U.S. Secretary of Commerce Gina Raimondo presented Gamber-Johnson LLC with the President's "E" Star Award for Exports at a Washington, D.C. ceremony on June 6th, 2023. Gamber-Johnson has previously won the President's "E" Award in 2014 and "E Star" award in 2018 and has concentrated efforts to continue growing this portion of our business since 2018. This award marks the highest recognition any U.S. entity can receive for significantly contributing to the expansion of U.S. exports. The prestigious "E Star" Award is awarded to businesses with four years of successive export growth since winning the "E Star" Award. A total of # U.S. companies were presented with the President's "E" Star Award this year.
"The Gamber-Johnson Team of companies is very proud to be recognized again by the U.S. Department of Commerce." states Brian Wagner, CEO of Gamber-Johnson, "Our team has embraced the challenges of expanding exports and consistently succeeded in growing this critical part of our business with the assistance of the Commerce Department. We are very grateful."
Exporting is and will remain a cornerstone of Gamber-Johnson's strategic growth creating dozens of additional quality manufacturing careers in the region.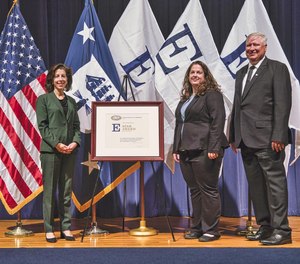 "Our consistent growth in export sales since 2012 is a testament to our effective export strategy," added Gautam Malik, Gamber-Johnson President and COO, "With 95% of the world population residing outside the U.S., our products have empowered mobile workers globally and have become indispensable to first responders worldwide. We have embraced the world's digitization and made export a strategic pillar. This has created American jobs and the proud distribution of American products across 52 countries. This recognition affirms our commitment to excellence and fuels our drive to continue expanding our global footprint."
A huge thank you is owed to our technology partners for entrusting us with our ability to deliver products that meet global market needs. We are proud to continue to increase exports with our multinational company with world headquarters in Central Wisconsin. 
Direct recognition from the judging panel, "Gamber-Johnson has demonstrated a sustained commitment to export expansion. The "E" Awards Committee was impressed with Gamber-Johnson's doubling of export sales since receiving the President's "E Star" Award for Exports in 2018. The company's development of new products to serve export markets was also particularly notable. Gamber-Johnson's achievements have contributed to national export expansion efforts that support the U.S. economy and create American jobs."
The following words delivered by Secretary of Commerce Gina Raimondo are empowering and a true testament to the contributions Gamber-Johnson brings to the US economy, "On Behalf of President Biden, I congratulate Gamber-Johnson LLC on its distinguished achievements in exports, which is delivering tangible benefits for local economies, workers and their families. The world turns to the United States for innovative products and solutions thanks in part to U.S. businesses of all shapes and sizes that export. Gamber-Johnson LLC serves as a model that will inspire enterprises and entrepreneurs everywhere." 
About the "E" Awards
In 1961, President Kennedy signed an executive order reviving the World War II "E" symbol of excellence to honor and provide recognition to America's exporters. Criteria for the award are based on four years of successive export growth in one or more international markets. 
For more information about the "E" Awards and the benefits of exporting, visit www.export.gov.
About Gamber-Johnson
Gamber-Johnson is a leading supplier of rugged mounting systems that safely secure mobile communication systems, computers, and other electronic equipment in fleet vehicles, public safety vehicles, forklifts, and other mobility applications. Their products are used by law enforcement, public safety, military, and warehouse fleets around the globe and are known for being rugged, reliable, and responsive. Founded in 1954 Gamber-Johnson is located in Stevens Point, WI. To learn more about Gamber-Johnson, visit gamberjohnson.com.

Request more info from Gamber-Johnson
Thank You!