PRESS RELEASE
Introducing Gamber Johnson's new 13.3" capacitive touch screen
---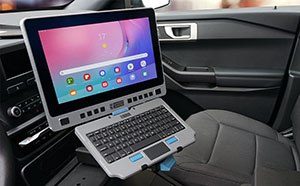 Gamber-Johnson is excited to announce its newest product, a 13.3" Capacitive Touch Screen, perfect for applications in manufacturing, retail, and the public sector. This new touch screen is a cost-effective solution and the perfect complement for an application that does not require fully rugged devices.
This Touch Screen features an ambient light sensor which automatically adjusts screen brightness; as this offers just the right view no matter where your work is located. The capacitive touch screen technology provides accurate and fluid responses when using typical smartphone hand gestures. The touch screen also features two stereo speakers integrated into the screen allowing for exceptional quality sound, directly from the touch screen. 
Gamber-Johnson's Touch Screen has a programmable emergency button to send an instant notification and a blackout button for privacy. The touch screen is environmentally tested making it a perfect choice for warehouse, distribution, and manufacturing applications. Fully integrated connectivity includes HDMI, VGA, USB 3.0 and USB-C.
Create a complete solution by combining the 13.3" Capacitive Touch Screen with Gamber-Johnson's wide variety of mounting products to build a customizable and ergonomic solution. Whether it be our USB Hub or Rugged Lite Keyboard this gives the user unique flexibility that can be quickly adapted to a variety of mobile or workplace environments, allowing operators to find the perfect ergonomically correct solution no matter the application.

Request more info from Gamber-Johnson
Thank You!