PRESS RELEASE
Case Study: Black & White Squads Through Inexpensive Graphics
---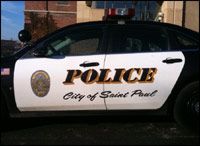 With cost/budget being a driving force in Law Enforcement today more departments are looking at where they can save those precious dollars. One cost savings measure is to wrap squad cars' doors with vinyl graphics rather than painting them to achieve a black & white color scheme. This gives the department more flexibility and more dollars to spend elsewhere.

One department that has been ahead of the curve in this area is the St. Paul (MN) Police Department which started their black & white changeover in the fall of 2008. Looking for a solution to avoid the high cost of the B&W paint scheme they turned to their long-time vendor, Eagan, MN - based Grafix Shoppe. There were two goals: to avoid the cost of painting/repainting and to have the flexibility to repurpose a marked squad into an unmarked car simply by removing the vinyl from the doors.

As Sgt. Ramstad with the St. Paul PD put it, "I can get my cost of the graphics back from the improved resale at auction". By using vinyl to wrap the doors instead of painting, departments can resell a solid color vehicle at a higher price than they could a black and white. And while it's possible to repaint a B&W prior to auction this is obviously far more expensive than removing vinyl from the doors. In addition to cost savings, this approach makes it impossible for auctioned B&Ws to be out on the streets being driven by civilians.

Since 2008 the St. Paul Police Department has marked 85 squads with white vinyl on the doors, and on those 85 squads Sgt Ramstad reports zero failures of the graphic or its installation. This two year track record with a large urban department shows that this is a viable option for small and larger departments instead of painting the squads.

The BENEFITS of vinyl over paint are (1) avoiding cost of the initial painting of the squad which can range $500 to $1,500, (2) flexibility of the vehicles' use and the (3) cost savings of repainting (again $500 to $1,500) as well as keeping the streets clear of civilian black and white vehicles driving around town.

What are the CONS of vinyl over paint? Applying the white vinyl over the doors does take more time (cut around window, handles…) and it is not a clean paint finish. But Grafix Shoppe has found innovative solutions to these problems so that a straightforward installation and attractive appearance are within grasp.

About The Grafix Shoppe
The Grafix Shoppe, along with its customers like St. Paul Police Department, has and will always look for solutions that best fits each department's needs. The Black and White styling comes and goes but as Law Enforcement graphics styles have evolved over its 25 year history, Grafix Shoppe has maintained relationships through its commitment to problem-solving. As Sgt. Ramstad said "The Grafix Shoppe's ability to satisfy our needs has maintained our relationship throughout the 20 some years of business". For an estimate or questions please feel free to contact the Grafix Shoppe toll free 888-683-9665 or go to www.grafixshoppe.com.