PRESS RELEASE
Grafix Shoppe's June Design of the Month
---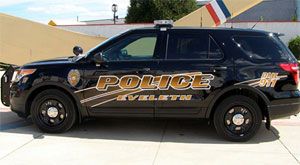 Eagan, Minn. - Grafix Shoppe worked with Chief Koivunent of the Eveleth Police Department in Minnesota to create a new custom design for their 2013 black Ford Interceptor Utility. Chief Koivunent said of the new design, "It came out awesome!!  So many good comments from other agencies and the public.  Thanks again." 
Configuration was made possible with our law enforcement vehicle graphics. Our Police car graphic kits are the most cost-effective way for your department to show a professional image on its vehicles. Not only are the designs attractive, but they are also modified to fit any vehicle in your fleet. Configure your safety vehicle decals, badges, and color today!
Contact Grafix Shoppe today to customize your own unique design. Call toll free 888-683-9665 to talk with a sales representative.
About Grafix Shoppe
Grafix Shoppe was founded in Minneapolis, MN in 1988 by Michael Donovan.  Initially, Grafix Shoppe started out as a small shop producing vinyl graphics for commercial and law enforcement vehicles. Throughout the 1990's, Grafix Shoppe pioneered the police car graphic kit, which is a proprietary design that is modified to fit the vehicle, produced in-house and shipped to law enforcement entities, nationally. This business grew rapidly and fueled Grafix Shoppe's expansion into the large format digital print business.