CopTrax Webinar Will Review Best Practices in Choosing, Purchasing, and Using Body-Worn Cameras and the Evidence They Record
---
PLANO, Texas – "Purchasing Body-Worn Video: Mistakes Made – Lessons Learned," is the title CopTrax Video Product Manager Bill Switzer's latest live webinar scheduled for Wednesday, July 29th at 2pm CDT.
"There's more to body-worn video than just purchasing a camera and clipping it onto your uniform," Switzer said.
"Are you recording what the officer sees? Are you storing the video evidence securely and efficiently? Are you prepared for the costs associated with upload, storage, archiving, and retrieval?" Switzer asked.
Reserve your seat for the July 29th event. The number of attendees is limited.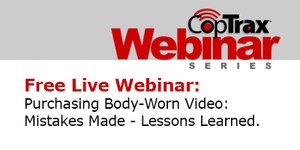 Hear about best practices in choosing, purchasing, and actually using body cameras and the evidence they record. Switzer has over 20 years of professional experience in developing and deploying video safety solutions.
CopTrax is the new ground-breaking police in-car video system from Stalker. Law Enforcement professionals benefit from CopTrax's live GPS tracking, real-time streaming video, no bulky DVD recorder, and 3G/4G cellular connection to the department's server or Cloud storage. CopTrax video is accessible in real-time from any Internet-connected computer. Its programmable automatic video triggers and powerful statistical analysis give police new tools for 21st Century law enforcement. CopTrax saves lives, and careers.
Take a look at the Pre-Event Video here
CopTrax is available through Stalker Radar's network of Regional Sales Managers located in territories around the U.S. For more information, visit the CopTrax web site, CopTrax.net.
Founded in 1977, Applied Concepts, Inc., introduced the first Stalker Radar to the law enforcement industry in 1989.  Stalker Radar is the dominant Doppler radar system and continues to lead the industry in technology breakthroughs and product innovations.

Request more info from CopTrax from Stalker Radar
Thank You!