PRESS RELEASE
The (nearly) indestructible Sightmark Ultra Shot M-Spec!
---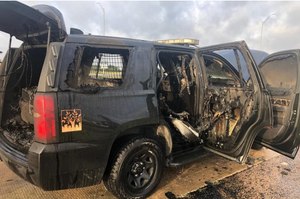 MANSFIELD, Texas– On a sweltering summer day, an officer for a Texas law enforcement agency was patrolling in his Tahoe cruiser. Suddenly he smelled smoke and felt heat from the rear of his vehicle. He quickly parked and exited the vehicle, standing guard to ensure that no traffic, innocent civilians or bystanders got too close to the burning vehicle. After a few short minutes, the entire Tahoe was engulfed in flames.
Upon later inspection, the entire interior was incinerated, and the cause was determined to be accidental. Amidst the ashes, nothing functional remained…except for the officer's Sightmark Ultra Shot M-Spec, mounted on a rifle in his range bag. Even more amazing, the M-Spec was still fully operational. To quote the law enforcement agency, "We stand fully behind Sightmark products." Sightmark replaced the burned M-Spec and continues to enjoy a healthy relationship with the law enforcement agency as well as its individual officers.
Sightmark's Ultra Shot M-Spec is known for its quality and durability:
• Rugged Magnesium Alloy Housing
• Protective Aluminum Shield
• Withstands recoil up to .50 BMG
• IP68 Waterproof Rating
• Dustproof
• Shockproof up to 8 feet
• Scratch-resistant lens coating
• Operates in temperatures from -22 to 160 Fahrenheit