PRESS RELEASE
Vote for Gamber-Johnson in contest to decide "The Coolest Thing Made in Wisconsin"
---
STEVENS POINT, Wisc. - Gamber-Johnson is nominated for the "Coolest Thing Made in Wisconsin" with our Single Sku Police Car. We are competing head-to-head with other Wisconsin manufacturers in a popularity contest to gain a spot in the final 16. We need your votes; please cast your vote today and every day from Sept. 18 through Sept. 26; the top 16 will be announced on the 27th.
Individuals can vote once every 24 hours per device. That means you can vote on your computer, your phone, your spouse's phone, or your kid's phone, call up your parents and have them vote, and have their friends vote every 24 hours. It's not cheating; it's just the rules!
The first round of voting will end on Tuesday, Sept. 26 at 5:00pm. Only the Top 16 products will move on to the next round, so don't forget to come back each day and vote!
Each year, Wisconsin Manufacturers & Commerce (WMC) and Johnson Financial Group partner to determine the Coolest Thing Made in Wisconsin. The competition aims to highlight the state's vibrant manufacturing industry. The contest not only brings attention to all the cool things made in Wisconsin, but also the outstanding career opportunities available in manufacturing – an industry that employs 1 in 6 people in the state and contributes over $68 billion to the economy. Products have ranged from motorcycles, military vehicles, cheese products, boats, generators, food carts, iron castings, beer, all-terrain vehicles, snow blowers and more.
The winner is announced each year during Manufacturing Month in October.
Here is the featured entry for Gamber-Johnson: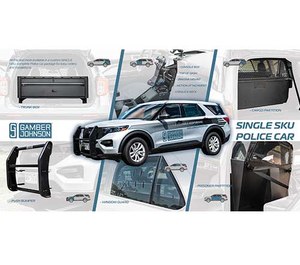 PRODUCT: Single Sku Police Car bundle
COMPANY, LOCATION: Gamber-Johnson - Stevens Point
DESCRIPTION: Gamber-Johnson is proud to partner with leading manufactures in the public sector market to bring you a comprehensive and convenient vehicle solution in one single sku. The Single Sku Police Car bundle reduces product lead times by eliminating the need for multiple orders while also offering financing options, making it easier than ever to acquire all of the products needed to complete a large install.

Request more info from Gamber-Johnson
Thank You!