PRESS RELEASE
TruckVault offers storage options for gun owners to safely secure firearms
---
SEDRO WOOLLEY, Wash. — Every day roughly one gun is stolen every 90 seconds. That amounts to around 380,000 stolen guns every year, too many of which are later used to commit violent crimes. Gun theft has become an increasingly serious and alarming issue in the United States in the past 15 years, with there being a 68% increase in gun theft since 2005.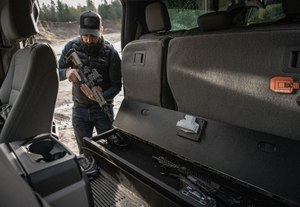 "You just can't leave a gun alone in a vehicle. You just can't do it. It has to be in a compartment, or in chains an inch thick wrapped around a lead box, because, god forbid, someone gets hurt," Jim Wedick, retired FBI agent, said. 
One of the many ways that guns are stolen is from people's vehicles. Unfortunately, many gun owners leave their handguns, shotguns and rifles in their vehicles as they go to the grocery store or to work. All it takes is a jimmied door or a broken window for criminals to easily take firearms which then they use to commit other crimes.
Since 1995, TruckVault has taken the issue of in-vehicle firearm security very seriously; we have made secure storage for the transportation of firearms our #1 mission. We started off by making products for sportsmen and women who needed a way to secure their hunting shotguns and rifles that they left in their truck while on a hunt, and today we make products for virtually every make and model of vehicle on the road. Law enforcement agencies across the country have been taking measures to ensure their weapons are secured safely. There's a reason over 10,000 agencies in the U.S. have trusted TruckVault to secure their firearms and sensitive equipment — it's the best in the industry and we treat our customers with care. All TruckVault products are handcrafted in the USA and are backed by an industry leading warranty and provide second to none customer service.
No matter your need, TruckVault has you covered. From simple stock designs to complex units that accommodate for drones, gooseneck trailer hitches, tactical equipment, pull out tables, elevated units, spare tire access, dog kennels and so much more. We have tens of thousands of designs and are constantly creating new ones for our customers' specific needs. All TruckVault products are handcrafted in the USA, backed by an industry leading warranty, and we offer free shipping in the contiguous US.
About TruckVault
Today, TruckVault is the most recognized name for vehicle equipment storage solutions in the sports, law enforcement and public safety markets. Now manufacturing in Sedro Woolley, Washington, TruckVault employs over 50 people internally and out-sources locally, further contributing to the U.S. economy.
TruckVault management and employees take great pride in their products and the quality they represent. You will not buy a better "in-vehicle storage solution" than one manufactured by TruckVault.
Buy Quality. Buy American. Buy TruckVault.

Request more info from TruckVault
Thank You!