Police helicopters becoming commonplace
---
Judi Villa and Dennis Wagner
USA TODAY
PHOENIX, Ariz. — Faced with urban sprawl, increasing calls for service and a shortage of police officers, law enforcement agencies nationwide are using helicopters to get to crime and accident scenes faster.
Law enforcement officials say the air patrols reduce risks for officers on the ground and give them a better chance of catching criminals.
"It's the wave of the future," says Paul Apolinar, a helicopter pilot with the Phoenix Police Department. "We're able to get overhead ahead of the patrol officers and increase our chances of apprehending the bad guy."
Helicopters, in particular, have proved especially popular since the Sept. 11, 2001, terrorist attacks, with agencies starting up fleets or upgrading their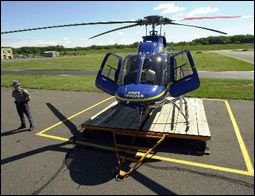 A new Bell 407 Helicopter for the Connecticut State Police is shown off at Brainard Airport in Hartford, Conn., Friday, July 13, 2001. The aircraft cost $1.5 million and will be used for search, rescue, crime scene investigation, and pursuit of suspects. (AP Photo/Steve Miller)
equipment and capabilities. The impact extends from Baltimore, where county police christened a $2.3 million hangar and three new airships in April, to San Bernardino, Calif., where a new flight unit opened last year.
Dan Schwarzbach, a helicopter pilot with the Houston Police Department and president of the Airborne Law Enforcement Association (ALEA), says planes and helicopters are used daily to defend the country's ports, nuclear facilities and other potential targets.
"I think it's critical," he says. "Any modern city in today's world has to have that."
Jim Di Giovanna, the association's training manager and retired aviation commander at the Los Angeles County Sheriff's Office, says more than 800 U.S. enforcement agencies now have aircraft.
"It's just exploded in the past 20 years," he adds, noting that the surge began in the mid-1990s when surplus U.S. military helicopters became available to police for free.
In Phoenix last year, helicopters answered 17,218 calls and assisted in 1,929 arrests, mostly felonies, according to Phoenix police's annual departmental summary. The city has seven helicopters, and it has plans for two more.
For agencies with strict policies on high-speed pursuits, helicopters offer the best way to catch a fleeing motorist without endangering lives and reduce the number of ground units needed for many calls.
In Mesa, Ariz., for instance, police helicopter pilots have an average response time of 54 seconds, three times faster than a patrol car. "People used to think of an air unit as a luxury," says Mesa Sgt. Sherry Burlingame. "Now, it's more of a necessity."
Kurt Robinson, vice president for Torrance, Calif.-based Robinson Helicopters, says Global Positioning System mapping devices, night-vision, live streaming video and other equipment have made the aircraft even more useful.
"We've seen a steady sales increase over the past five years," Robinson says.
Di Giovanna says an ALEA survey shows that enforcement helicopters outnumber fixed-wing planes by a 2-1 ratio. Police copters cost from $500,000 to $3million fully equipped. Flying costs range from $200 to $400 per hour. In Phoenix, the aviation budget for fiscal 2008 is $8.4million.
The expense of helicopter programs has spurred smaller agencies such as the El Monte (Calif.) Police Department to buy their own helicopters but pool money and other resources with six other police agencies to operate the program, air support Sgt. Jeff Girgle says.
A number of companies, including Las Vegas-based Silver State Helicopters, have begun offering contract deals that provide helicopter time, a pilot, insurance and maintenance for a fee.
Aviation officers say the crime-fighting benefits outweigh the hefty price tag.
"The airplane is a deterrent," says Andy Dobis, an Arizona Department of Public Safety (DPS) airplane pilot. "If people know that the police are watching them, they act totally different than if the police aren't watching them."
Dobis says that most of the DPS turf is in rural Arizona where officers are stretched thin. At an average speed of 120 mph, he and his Cessna can cover more ground less conspicuously, spotting speeders or drunk drivers. "We can see both sides of the highway and 10 miles up. That's our advantage," Dobis says. "We can get the whole picture."
Schwarzbach says helicopters offer invaluable public protection.
"The officer on the ground and the citizens we serve have a feeling of security when a helicopter is overhead watching them," he said. "It's peace of mind."
Copyright 2007 USA TODAY

Request product info from top Police Vehicles companies
Thank You!