Spotlight: Defender Supply is a one stop shop for Law Enforcement Ready-to-Roll vehicles
Their mission is to help law enforcement and first responders reach their maximum potential by providing the highest quality turnkey vehicles and equipment.
---
Company Name: Defender Supply
Headquarters: Argyle, Texas
Signature Product:  Custom-built and turnkey emergency vehicles
Website:  www.defendersupply.com
We've got what it takes to be your preferred parts supplier and up-fit facility. We are master distributors for all major emergency equipment manufacturers and maintain a multi-million dollar inventory of the most popular items, allowing us to meet your exact needs and maximize your budget. All emergency vehicle equipment installations are performed by certified master technicians, ensuring quality and worry-free operation. Defender Supply's mission is to help law enforcement and first responders reach their maximum potential by providing the highest quality turnkey vehicles and equipment. We pride ourselves on competitive pricing, one-shop convenience, and best-in-class customer service. We don't care about being the biggest. We care about being the best. Our complete understanding of vehicle dynamics and operating systems allows us to design and up-fit emergency vehicles to your specifications. Our technicians have a complete understanding of vehicle operating systems and the performance effects of adding emergency equipment, greatly reducing the risk of build errors and resulting costly down time. Our superior craftsmanship, industry knowledge, and decades of experience give us a unique advantage in maximizing budget dollars to build cost effective vehicles for your fleet.
1. Where did your company name originate from?
Since we do more than law enforcement vehicles, our name needed to be more inclusive to the first responder community. Our products are used mainly by those who defend our freedom and our lives. With that mindset, Defender Supply was born.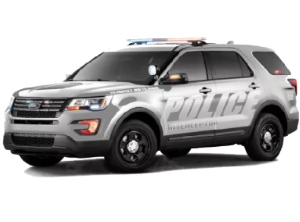 2. What was the inspiration behind starting your company?
Our focus has always been on the customer first and foremost. We saw the need to bring this attitude to the first responder upfit industry. Quality and value can go hand in hand without sacrificing one. We are genuinely interested in the people who will use our products and we put forth our best effort each and every time.
3. What is your signature product and how does it work?
We specialize in custom-built and turnkey emergency vehicles. We work closely with the vehicle manufacturers and the makers of the equipment to keep costs low for the departments. Then, our team of certified master technicians install all the equipment in house, including lights, sirens, prisoner cages, even graphics on the vehicles. What sets us apart is the quality of the work and the level of customer service we provide to our clients.
4. Why do you believe your products are essential to the police community?
A well-built emergency vehicle is crucial to the operations of every department. The quality of our installs ensures that officers will have a vehicle that works, equipment that functions, and will not have costly downtime. Many agencies that we've worked with come back to use us again and again because our wiring is clean, we understand equipment placement for easy use, and we completely document all of our installs making it easier for future repairs and replacements. That means your officers spend more time on the road and less time on vehicle maintenance.
5. What has been the biggest challenge your company has faced?
Educating the customer that they don't have to choose between quality and value. Each of our vehicles are produced to our high standards. Quality pays for itself in the long run with lower maintenance cost and down-time.
6. What makes your company unique?
Defender Supply prides itself on being a one-stop shop for departments. We work with suppliers and manufacturers to make sure agencies get the best equipment for the best price, and ensure that all installations are top-of-the-line. Divisions of our company also handle Simunition training supplies, radar certification, even firearms, ammunition, and duty gear. The streamlined ease of ordering from us coupled with our unparalleled customer service sets us apart from other vehicle upfitters.
7. What do your customers like best about your products?
We are master distributors for all of the products we offer and our products are available at low contract pricing. That translates to shorter build times, lower cost parts, and replacements that are readily available. Our experienced sales staff understands the needs of the end user and is very knowledgeable of the application of our products.

8. What is the most rewarding part of serving the first responder/local government community?
We have a sense of satisfaction knowing our products are used every day by men and women in the protection of people and communities. These men and women volunteer to perform this duty and make sacrifices so that we are safer. Defender Supply vehicles are carefully built so officers have one less thing to worry about as they serve our community.
9. Do you support any charitable organizations within public safety/community? Tell us more.
Defender Supply often reaches out to officers and their families during their time of need. Our close relationship with our customers never waivers during good or bad times.
10. Is there any fun fact or trivia that you'd like to share with our users about you or your company?
Our company has expanded in an interesting way. Some of our law enforcement customers were impressed by our service when building their vehicles and asked us if we could provide ammunition and firearms to their departments as well. We got our Firearms License and began offering that service as well. Soon, individual officers began to ask if they could purchase personal firearms from us. Due to regulations, we had to create a new division to sell to individuals. So we created a new company called Defender Outdoors to serve civilians and individual officers. That company has grown alongside Defender Supply and includes a state-of-the-art shooting and training center in downtown Fort Worth as well as a Sporting Clays facility just outside of town.
11. What's next for your company? Any upcoming new projects or initiatives?
Our goal now is to increase production and reduce wait time without cutting corners or lowering our quality standards. Defender Supply has a coveted reputation for building cars, trucks, motorcycles, and now ATVs to our customers' satisfaction. Customer first, quality and value are the Defender Supply legacy and future.