PRESS RELEASE
Segway Unveils the Next Generation of Personal Transporters For Police Use
---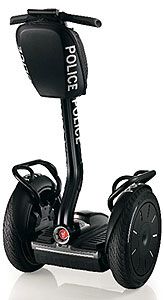 New i2 Police and x2 Police Packages Expand Patrol Range and Reduce Fuel Costs
BEDFORD, N.H. - Segway Inc. today introduced the next generation Segway® Personal Transporter (PT), the new Segway i2 and x2, and the i2 Police and x2 Police packages designed specifically for patrol and community policing applications. The new Segway i2 Police and x2 Police feature revolutionary LeanSteerTM technology that makes riding incredibly intuitive, plus a wireless InfoKeyTM controller that provides a theft deterrence system and real-time trip data. Both Police packages also come fully equipped with a complete set of police accessories.
Like their predecessors, which were first introduced in 2001, the new Segway PTs utilize Segway Smart MotionTM Technology that enables them to balance and move on two wheels. In addition, the Segway PTs feature two entirely new state-of-the-art innovations:
Revolutionary LeanSteer technology responds to the rider's natural inclination to lean into the direction of travel. Now the rider controls all aspects of Segway PT movement simply by leaning his or her body. This produces a uniquely simple and intuitive riding experience. In addition, the advanced design of the new Segway PT and its sophisticated software allows it to differentiate between the rider's steering and changes in the terrain, keeping the rider stable and comfortable when traveling over uneven ground.
A wireless InfoKey controller functions as a key, an information center and an anti-theft system. Each InfoKey controller is uniquely programmed to work with only one specific Segway PT, and it provides the rider with real-time information on battery life, speed, distance covered and system performance. It is also used to activate the Segway PT's built-in security features to deter unauthorized use.
Segway Inc. is offering these breakthrough technologies in two Segway PT models. The i2 model has a range of up to 24 miles, or 480 city blocks, and is ideally suited for urban and suburban transportation. The x2 model has a wider wheel track and is equipped with all-terrain tires that enable it to travel across rougher surfaces of dirt, gravel or sand. Even on such terrain, its lithium-ion batteries deliver a range of up to 12 miles on a single charge.
When the i2 is equipped with the Police package it becomes the ideal personal transporter for urban street patrols, community policing initiatives and private security details. The i2 Police includes a handlebar bag for gear, an accessory bar for lights and sirens, a handlebar bumper, reflective police labels, comfort mats, an LED taillight, and cargo frames that double as lift handles. The manufacturer's suggested retail price (MSRP) for the i2 Police package is $5,495.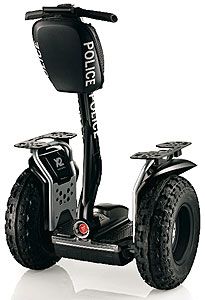 The x2 Police is the ideal choice for patrolling the outdoor environments of parks, recreation areas, trails and campuses. It comes equipped with a handlebar bag, an accessory bar for lights and sirens, a handlebar bumper, reflective police labels, an LED taillight, two universal cargo plates and cargo frames that double as lift handles. The MSRP for the x2 Police package is $5,895.
"More than 150 police departments and security organizations worldwide already use Segway PTs to patrol downtown business districts, airports, shopping malls, parks and college campuses," said Klee Kleber, vice president of marketing for Segway Inc. "With the capabilities of the new generation of Segway PTs and the addition of the new x2 Police package, we are providing police agencies with tools that will greatly enhance the productivity of patrol officers. And because Segway PTs use no gasoline, they can also greatly reduce fuel costs."
Sheriff Beth Arthur, Arlington County Sheriff's Office, has equipped her Deputies with Segway PTs to enable them to serve court documents more efficiently.
"Not only are these Deputies able to do their jobs more quickly and efficiently (on a Segway PT), but they are also reducing our department's fuel costs and vehicle pollution," says Arthur. "We've been able to take two patrol cars off the street and conserve the taxpayers' money. Everything's working out very well."
Much of the appeal of Segway PTs among rank and file patrol officers can be attributed to the performance characteristics of these revolutionary machines:
Officers stand eight inches taller on a Segway PT, enabling them to see and be seen over crowds and automobiles.
Segway PTs use no gasoline and give off no emissions, allowing officers to patrol indoors and out.
With a range of up to 24 miles on a single charge of its batteries and a top-speed of 12.5 m.p.h. the Segway PT allows an officer to cover far more area than he or she could on foot.
Segway PTs are self-balancing, even when standing still. This makes them an ideal patrol tool when moving through crowds on sidewalks or in airport terminals and shopping malls and when stopping to provide directions, direct traffic or converse with citizens.
The Segway PT operates extremely quietly, enabling an officer to unobtrusively survey situations or respond to alarms. Front and side cargo systems allow the officer to carry extra gear, including EMS equipment.
With the exception of battery recharging there is no regular maintenance required on the Segway PT. The device can also be used in the rain and cold, and its batteries are operable to 14 degrees Fahrenheit. Battery recharging costs are extremely low - approximately 25 cents per day.
Officers are also more approachable when on Segway PTs, making them highly effective in community policing applications.
The individual components of the i2 Police package are as follows:
The Segway i2 model features lithium-ion batteries, LeanSteer technology and a wireless InfoKey controller. The lithium-ion batteries operate at temperatures as low as 14 degrees Fahrenheit, enabling all-weather use of the Segway PT.
Range: 16-24 miles
Top speed: 12.5 m.p.h.
Payload: 260 lbs.
Handlebar Bag - This molded plastic shell protects police gear when on patrol, and easily detaches when the officer leaves the machine. The exterior can be fitted with department logos and reflectivity.
Reflective Trim - Reflective police and security decals to enhance officer identification and visibility from the front or rear.
Accessory Bar - It easily attaches to the handlebar where it acts as a mounting point for lights, sirens and other accessories.
Handlebar Bumper - Protects the handlebar and grips against dings, nicks and scratches.
LED Tail Light - Uses high output LED technology to produce bright red light that's ideal for nighttime patrols.
Comfort Mats - Made of industrial grade rubber, the Segway comfort mats provide a comfortable, fatigue-reducing foot surface for those who ride the Segway PT for an extended time.
Lower Cargo Frames - Made of non-corrosive aluminum tubing, the cargo frames give you the leverage you need to lift and move a Segway PT. They also accommodate lighting and cargo attachments.
With the exception of comfort mats, the x2 Police includes the same accessories as the i2 Police. In addition, the x2 includes a set of two universal cargo plates that attach to the x2's standard lower cargo frames and enable additional gear to be attached to the unit with bungee hooks, cargo nets or other devices.
To find complete specifications of Segway PT models and packages, or to configure a personalized unit, visit www.segway.com
About Segway Inc.
Segway Inc. develops intelligent motion control technology known as Segway® Smart Motion™ that is embedded in the light electric transportation devices it manufactures, such as the well-known Segway® Personal Transporter (PT). Segway Smart Motion provides intelligent motion control that enables a device to monitor its environment, control its motion and make decisions about how it should move.
Segway markets a full line of zero-emissions Segway PTs that deliver impressive energy efficiency - equivalent to 450 miles per gallon. The company's line of Segway Robotic Mobility Platforms (RMPs) offers reliable, durable mobility solutions for robotic applications.
Segway Inc. has a worldwide distribution network of more than 250 retail points in 61 countries. For additional information about Segway and to find retail locations, please visit www.segway.com or call 1-866-4SEGWAY. Media materials and digital images are available at the Segway Press Center at www.segway.com/news.