Armored police vehicle factory expands production to meet demand
Lenco Armored Vehicles has spent $5 million to expand production of its BearCat vehicles
---
By Police1 Staff
PITTSFIELD, Mass. — Lenco Armored Vehicles announced it has spent $5 million to expand production of its armored vehicle.
Fox News reported that Lenco plans to expand production of its BearCat vehicles. The company is planning to purchase and refurbish a 70,000-square-foot building adjacent to its original factory in Massachusetts to eventually double vehicle production.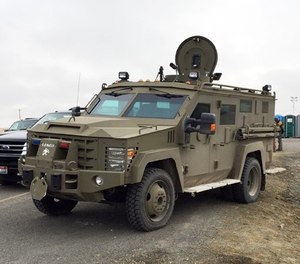 Over the years, Lenco has built and sold nearly 6,000 BearCats to local, state and federal law enforcement agencies and 40 foreign governments. LenCo CEO Len Light said it's necessary to give law enforcement the "best tools they need to protect themselves in life-threatening situations."
More than 800 departments have BearCat vehicles, which have been used during riot and protest response. Officials at the company said LEOs constantly thank them after shootouts where the vehicle prevented harm to police and citizens.
It takes about four weeks to build a single BearCat, with 100 employees finishing one BearCat a day on average. The vehicle is in high demand, which has led to a back order of close to 18 months. After the new facility is ready and fully operational, the company expects the wait time to go down to eight months or less.
The company also expects the expansion to help rebrand the BearCat as a rescue vehicle. The vehicle has helped with multiple national disasters, and the company hopes to deliver vehicles to more fire and first responder departments.
Since the 1990s, police departments nationwide have stocked up on armored incident response and rescue vehicles, taking advantage of a program enacted to give LE access to military-grade gear.
The program was temporarily suspended by then-President Barack Obama in 2015 before President Donald Trump lifted the ban last year. 

Request product info from top Police Specialty Vehicles companies
Thank You!