Ala. police chiefs say it's getting harder to recruit
Police chiefs are having a harder time recruiting and are concerned that if trends continue they could have trouble putting enough officers on the street
---
By Lawrence Specker
Alabama Media Group
MOBILE, Ala. — Police chiefs in some of Alabama's biggest cities say they are having a harder time recruiting and they are concerned that if trends continue they could have trouble putting enough officers on the street.  
Racially charged incidents such as the fatal 2014 police shooting of Michael Brown in Ferguson, Mo., had been a source of controversy well before 2016 began. But this year brought several more disputed incidents, including the June shooting of Mobile teenager Michael Moore, that created challenges for hiring and keeping local police officers.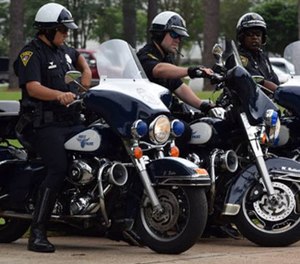 In the wake of Moore's death, Mobile Police Chief James Barber and Mayor Sandy Stimpson said that interest among potential recruits to Mobile's police academy had dropped dramatically. Stimpson said other departments share the same concerns.
Stimpson said that the discussion came up during a recent meeting of mayors and police chiefs. Stimpson said Birmingham Police Chief A.C. Roper told the group that he could start with a list of hundreds of interested applicants and wind up with only a few dozen qualified candidates. "He's really found it very difficult to hire," said Stimpson.
There's some kinship between Birmingham and Mobile, Stimpson and Barber both said, in that they both must do their hiring through county personnel boards, which add steps to the process. "If we're lucky, we're able to hire somebody six months after they apply," said Barber. "Really it's more like a year."
What Barber calls "the Ferguson effect" is more recent. In Mobile it took on a personal note after the Michael Moore incident. The killings of officers in Dallas and Baton Rouge didn't help with recruitment.
Last year, the Mobile Police Department had 227 applicants for its police academy, and 179 took a written test that is the first hurdle in a process including physical tests and background checks. This year, 183 applied but only 69 took the first test.
Retention has suffered as well.
"We've lost over 100 officers since January of last year," said Barber. Two-thirds has been what you might call normal turnover, such as officers moving on to other agencies offering better pay. "The new trend we've seen is getting out of law enforcement entirely," Barber said.
The job sends officers out to confront the worst of society, Barber said. "What you see in the Ferguson effect, and the failure of some local leaders," he said, gives officers the feeling that they're sticking their necks out for people who won't support them.
"The message is, you can do everything right ... and still be cast out of your career," he said. "We can't have some elected leaders condemning an action they know nothing about."
Stimpson said that after he became mayor in 2013, police and fire department concerns about pay and recruitment quickly came to his attention. He said he's tried to focus on factors within city control, such as raising pay. The city recently did pass a $5,000 police pay raise. Barber said it improved morale among officers on the force, although it hasn't changed the MPD's low starting pay – which ranges from $30,000 to almost $35,000, depending on education.
In Tuscaloosa, Police Chief Steven Anderson can take comfort in offering a far better starting salary -- $45,678 -- for patrol officers. But he too has seen things change due to a general "negativity" in society's view of police, and a "breakdown of trust in the minority community."
"The baseline challenge for us ... is finding qualified applicants in the minority community and among women," said Anderson, who is Tuscaloosa's first black chief. The terrorist attacks of September 2001 pushed the pendulum one way: More people supported first responders, and more people wanted to join their ranks. Anderson said the recession of 2008 also helped recruitment, as the force offered a steady job in uncertain times.
Nowadays, he said, the pendulum has swung the other way. Social media fuels "such a rush to judgment" in controversial police encounters, he said. "We've got to take a step back ... We've got to understand there's a limited amount of transparency you can provide when you're conducting an investigation."
"I think it's generational as well," Anderson added, "especially when we hire people out of college." In a lot of cases, he said, they want to get some experience and then move on to federal agencies.
He doesn't have to go through a personnel board but hiring is still a struggle. In May the Tuscaloosa Police Department had 272 online applications, out of which 119 people showed up for a test that 95 or 96 passed. After physical tests and background checks, he said, "We ended up with maybe about 25 individuals we could put on a roster and consider hiring."
Even then, he said, it's a year to 18 months before they're fully trained, off probation and able to work alone.
Anderson said that his department is budgeted for 286 officers and was able to stay close to that until 2014. Since then, he said, "we have had a difficult time," and the force tends to hover around 265.
In Birmingham, where the base pay ranges from $37,232 to $41,038 depending on education, the force is larger but so is the shortfall in manpower. According to figures provided by Public Information Officer Lt. Sean Edwards, the force is budgeted for 914 officers and has 820.
The constant cycle of training replacements has a price. As Barber said, "if you're losing 60 a year, that's $3 million you're spending" just trying to get replacements trained and on the job.
The Huntsville Police Department offers relatively high starting pay, at about $39,000. Even so, Lt. Stacy Bates, a public information officer under Chief Mark McMurray, said recruitment has gotten harder.
"I'd say in the last year, last year and a half, it's been an issue," said Bates. He allowed that in some controversial incidents, police critics might have legitimate concerns, while in others the sense of injustice is all a matter of perception. But either way, "as a police officer, you're under a microscope."
Last September, recruitment started with a pool of 918 people who'd expressed interest. This year, Bates said, that was down to just under 600. Eventually that was whittled down to about 40 qualified applicants for about 20 openings. "I'm sure a lot of people would be tickled to have 600 people apply," said Bates.
The HPD has an authorized strength of 430, Bates said, but "We're hardly ever at 430, and it's been that way for years." However, he attributes turnover to retirement and to officers going to work for other agencies.
"We haven't had anybody say they were getting out because they were sick of law enforcement," he said.
Public criticism does make the job less attractive to some, he said, but added: "What we're seeing is, if your heart's truly in public service ... none of that's going to matter."
That resonates with Barber's view. He thinks the world has changed. Chiefs have always had to consider crime. Since 9-11 they've had to consider national security as well, he said, and now they have to factor concerns about civil unrest into their plans.
"In my 28 years, I've never seen a more challenging time," he said.
What hasn't changed, he said, is that cops have a different way of looking at the world. When the average citizen hears of some terrible incident like a mass shooting, Barber said, he or she is grateful not to have been there.
"A cop's mentality, when they react to the exact same situation, is, 'I wish to God I had been there,'" said Barber. "They're just wired that way."
McClatchy-Tribune News Service