Kan. police credit new strategies with recruiting success
Recruiting officers have streamlined the hiring process, changed the way candidates are targeted in an effort to fill over two dozen departmental vacancies
---
Phil Anderson
Topeka Capital-Journal
TOPEKA, Kan. — After several years where it was nearly impossible to find people willing to consider a career as a Topeka police officer, things are on the upswing.
Lead recruiting officers for the Topeka Police Department credit a shift in strategies for their newfound success.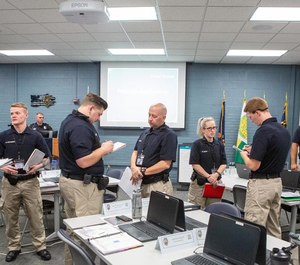 Sgt. Matt Cobb, lead instructor for the Topeka Police Department Academy, said recruiting officers now target prospective candidates in much the same way a college coach or military recruiter would try to sell his or her program to a prospect.
The strategy, Cobb said, involves developing relationships between the officers and the recruit, in addition to streamlining the hiring process. It includes doing in-home visits, and even involving a recruit's family members, to sell them not only on the Topeka Police Department, but on the capital city, as well.
"About 25 years ago," Cobb said, "you could turn on the 'now hiring' sign and have 600 applicants for 12 positions. Those days are gone."
Cobb said today's recruiting and hiring practices have had to be retooled so they are geared to today's generation of young people.
Rather than waiting on prospective officers to find the Topeka Police Department, Cobb said, the department changed its strategies about three years ago in February 2017. Topeka police officers in charge of hiring and recruiting now go to the potential recruits.
The retooled focus came on the heels of what Cobb called a recruiting and hiring crisis in 2015 and 2016, where the political climate and media coverage soured young people on seeking careers with their local police department and left Topeka with a shortage of individuals expressing interest in joining the force.
Recruiting and hiring practices had to "evolve" to get the interest of young people, Cobb said.
"Personally, I don't like Facebook," Cobb said. "But that doesn't mean we can't recruit on Facebook just because I don't like it. That's where our applicants are at."
But the main reason for success in the past couple of years has been the move to develop relationships between Topeka police recruiters and potential hires.
The department's success rate has been noticed by law enforcement agencies outside Topeka. Cobb said the Topeka Police Department has been asked to present its recruiting strategies at national law enforcement conferences.
Might those same strategies that work so well for the Topeka Police Department be used against it by competing law enforcement agencies?
Cobb said the Topeka Police Department's recruiting officers have heard that question, but aren't terribly concerned about potential fallout from sharing their secrets, contending that the overall goal is to bring interested candidates into the larger law enforcement arena, regardless of agency.
That doesn't mean the Topeka Police Department is sitting by idly and allowing other agencies to swoop in and take candidates they have recruited, however.
Cobb noted that since the Topeka Police Department runs two academies a year, one starting in January and the other in July, some officers in the hiring queue may have to go into a waiting period for a few months until the next academy started.
There were instances, Cobb said, where another, smaller agency heard that a prospective officer was waiting several months for the Topeka police academy to start and offered a chance for that individual to join its department sooner by going to a state-run police academy in Hutchinson and avoiding having to play the waiting game in Topeka.
To help resolve that potential problem, Cobb said the Topeka Police Department has instituted a "pre-hire" process where a prospective officer waiting for the next police academy to start can work in the Topeka Police Department's intelligence division, doing tasks such as data entry while also being afforded the opportunity for ride-alongs with other officers on a regular basis.
Though the pay is lower than what the prospective officer will command once the police academy begins, the individual in the pre-hire position is still employed by the City of Topeka, generating income and gaining valuable experience with the police department in the meantime.
The Topeka Police Department is budgeted for 299 officers at present. At the end of 2019, there were 26 vacancies. In June, 15 new officers are expected to join the ranks. When the next class is formed and begins in July, the department hopes to have enough recruits to fill the remaining vacant positions.
Sgt. Vidal Campos, who works in the areas of recruiting and hiring for the Topeka Police Department, said when Topeka officers visit a university for a career day, they make sure not to stand at a booth with more than 100 other potential employers, waiting for students to find them.
Rather, he said, Topeka police recruiting officers go to classes on the university's campus at the same time the career fair is going on, where they can make their presentation to classrooms of several dozen students.
Campos said some college instructors will give the Topeka officers an entire class session to talk about the department and answer questions from students. Other instructors will allow 15 minutes of class time for the Topeka police officers' presentation. Some won't allow the officers into the classrooms at all.
In cases where Topeka officers do get to speak directly to students in classrooms, each presentation contains essential information about the city of Topeka and the police department, though efforts are made beforehand to research the specific geographic area where the college is located so the presentation is geared especially for students at that location.
Campos said about 50% of any new police academy class has a background in the military. To that end, Topeka police recruiters visit area bases to make presentations each spring, a few months ahead of when many of the enlisted personnel are scheduled to leave their active-duty status.
Campos said those with military experience typically make good police officers, as a result of their training and experience.
"They already understand the idea of serving," Campos said. "They also come with a pretty well-documented background and work ethic, so we love hiring veterans, just like anybody does."
Physical testing also has been streamlined and can be done on site through a mobile classroom that the Topeka Police Department takes to the various campuses. Also, some of the questions and requirements that were in place a few years ago and that weeded out officers before they got very far in the recruiting process are no longer part of the initial interview process.
The Topeka Police Department also is focusing on universities in Kansas for potential job candidates, and finding them not just from the criminal justice departments, as had been the case in the past, but from other academic backgrounds, as well.
In addition to focusing on Washburn University in Topeka, efforts also are underway to reach students at Emporia State, Pittsburg State and Fort Hays State universities.
In a recent interview, Topeka police Chief Bill Cochran said the department has "a very robust recruiting plan" in place.
Though Cochran said he doesn't specifically target minorities when recruiting, he is seeking to make the department more diverse and representative of the Topeka community.
"We don't specifically recruit minorities," Cochran said earlier this month, "but where we choose to recruit is up to me."
To that end, the Topeka Police Department in recent months has cast a wider net, finding success by sending recruiting officers to the University of Southern Mississippi in Hattiesburg, Miss., and Lincoln University, a historically black college in Jefferson City, Mo.
Cobb said an updated internship program from the summer of 2019 attracted six students from Southern Mississippi, three from Lincoln and three from Washburn.
Cochran said the internship program lasted three weeks and provided 120 "contact hours" for each student. He said the Parish Hotel Corporation of Topeka provided lodging and meals at no charge for students from out of town during the entire three-week session.
Of the 12 who took part in the internship program, four are on board to join the Topeka Police Department. One white female Washburn student started the academy in January, and three are in the hiring process for the July academy — one Hispanic woman from Southern Miss, one white woman from Southern Miss and one white man from Washburn.
"Out of an internship program," Cochran said, "I don't think you're going to find many that are any more successful."
The internship program will be conducted again this coming summer, Cochran said, with students expected from the same universities as last year and additional representation from Emporia State, Fort Hays State and Pitt State.
Rather than lasting three weeks, as was the case with the 2019 internship program, the 2020 program is set for four weeks.
Of the 66 officers hired since November 2017, Cochran said, 43 have been white males; five have been white females; six have been black males; six have been Hispanic males; one has been a black female; one has been a Hispanic female; one has been a Pacific Islander male; one has been a Pacific Islander female; one has been a Native American female; and one has been Asian.
Helping lure candidates to the Topeka Police Department is a starting wage that Cochran described as being "extremely competitive." Beginning officers now command $22 an hour, up about $5 from the department's previous contract. The starting wage for a Topeka police officer is nearly twice as much as what some agencies offer in other parts of the nation.
Cochran added that increased efforts would be placed on officer retention, as several left unexpectedly in 2019 around the five-year employment mark. He said some moved to police jobs in other parts of the country, including the Dallas, Seattle and San Diego areas, while others left to work in their own businesses.
As the department has gone to 10-hour shifts, Cochran said, officers now routinely get three days and sometimes even four days off in a row as part of their regular schedules, making it possible for them to stay with the department and still run their own business.
Steven Smith, 25, of Brookhaven, Miss., is among the 15 members of the newest police academy class, which started Jan. 13. While many of the recruits are from Kansas cities and towns such as Topeka, Silver Lake, Junction City, Baldwin City and Axtell, others are from St. Louis, Minneapolis, Minn., and Brookhaven.
The class will entail six months of training, then six months of working with a field training officer on the street before the new hire goes on probation for six months. After that, the individual begins to work as a full-fledged officer. The total training process, including the probationary period, lasts 18 months.
Smith said the Topeka Police Department won him over by the amount of effort they expended getting to know him, his parents and his fiancee, whom he has since married.
When Smith came to Topeka in September, he was shown around town by other officers, who also gave his parents a tour of Topeka that lasted about six hours one day.
Smith found about the Topeka Police Department initially when recruiting officers visited Southern Miss, where he was a student at the time. He has since graduated with a degree in criminal justice.
"They really sold me on the Topeka Police Department," Smith said, noting the Topeka Police Department stood out among all the other agencies that sent recruiting officers to Southern Miss. Rather than just an officer or two showing up, he said, the Topeka Police Department "brought a team" of officers to make their recruiting presentation.
As the recruiting cycle never ends, officers leading the Topeka Police Department's recruiting efforts said they will continue to adapt their strategies to the ever-changing needs of those they are hoping to attract to the department.
McClatchy-Tribune News Service