Elected officials should evangelize 'comply and complain' to constituents
Following an officer-involved shooting that left a 13-year-old boy dead, elected leaders like Columbus Mayor Andrew Ginther should work to educate citizens about complying with police commands
---
Speaking on the fatal shooting of a 13-year-old Ohio boy who pulled a BB gun on police responding to an armed robbery call, Columbus Mayor Andrew Ginther said that the community should address what he called easy access to guns.
"There's something wrong in this country, and it is bringing its epidemic to our city streets," Ginther said. "We as a community need to come to grips with the fact of such easy access to guns, whether they're firearms or replicas. Why is it that a 13-year-old would have nearly an exact replica of a police firearm on him in our neighborhoods? A 13-year-old is dead in the city of Columbus because of our obsession with guns and violence."
Actually, Tyre King is dead because he was suspected of robbing a defenseless man at gunpoint, and was not complying with lawful commands of police. He'd be just as dead if he was holding a knife or a tire iron and had continued to be a threat to police officers and innocent civilians. Ginther's focus on the object — a BB gun that Police Chief Kim Jacobs said "looks like a firearm that could kill you" — diverts attention away from the criminal behavior. It diverts attention away from the fact that King could easily have survived the encounter by complying with police — not drawing a gun on them.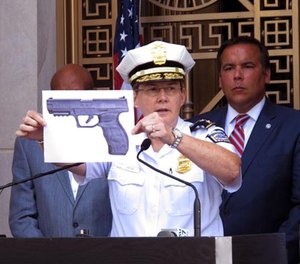 Comply and complain
Mayor Ginther said that he wants to redouble efforts to work with community leaders to build relationships within city neighborhoods, and relationships with law enforcement. His first step should be to work with community influencers — from clergy to council members — to educate the public about the term "comply and complain."
They need to tell the people that when told by police to do something, the best and safest course of action is to do it. In the event that an individual feels their constitutional rights have been violated, they may seek redress, remediation, and remuneration after the fact. They may file a complaint against the officer. They may even sue the department. But a person cannot have their day in court if they're dead.
When subjects comply with lawful orders by police, shots are not fired. However, when a subject is non-compliant and continues to be a threat of death or great bodily harm, shots become a very real possibility, as happened in Columbus this week. 
"We robbed somebody, the people I was with," said Demetrius Braxton, who was with King. "The cops said to get down. We got down but my friend (King) got up and ran."
Braxton is alive today because he complied with police. King is dead because he did not. 
While Mayor Ginther is educating his constituents about 'comply and complain,' he should also spread the word that according to the ruling Tennessee v. Garner, law enforcement officers "may use deadly force to prevent escape only if the officer has probable cause to believe that the suspect poses a significant threat of death or serious physical injury to the officer or others."
King had just committed an armed robbery. Then he attempted escape. That is a pretty clear indicator that he posed a potential future threat. 
Split-second decisions
Chief Jacobs said that getting into an officer-involved shooting "is the last thing that a police officer wants to do in their career." Jacobs added that unfortunately, it sometimes "becomes necessary at times to defend themselves."
Jacobs is exactly right. In fact, officers have a moral and legal obligation to shoot an armed individual who poses a threat of death or great bodily harm to police or civilians. Recall that a West Virginia officer was fired because he "failed to eliminate a threat." 
In that case, the officer was confronted by a suicidal man who kept flicking the gun in his hand in order to force the cop to shoot him. He didn't and when the subject began to approach two other cops, one of them shot and killed him. 
Surely the officer who opened fire did not wake up that day and say, "I think I'll go find someone to shoot today." They likely said, "I'm coming home today — no matter what."
Behind the curve
In rapidly unfolding life-and-death armed confrontations, police officers must make split-second decisions. And in an armed encounter, action always beats reaction — every time. According to research by Force Science, it takes an absolute minimum of a quarter to a third of a second for an officer to recognize a threat and begin to react. It takes even more time to begin to press the trigger in self-defense. In that span of time, an assailant can get off one to two shots. That puts cops at a deadly disadvantage.
King's death was a preventable tragedy. My heart goes out to his family and friends. I wish he was still alive. I wish he had dropped the gun, and complied with police.