Pathways to recovery: Opioid training beyond Narcan
Video series educates law enforcement about opioids, substance abuse and resources
---
By Nicole Adams, Ph.D., RN, CEN
The statistics are staggering: More than 70,000 people died of a drug overdose in 2017, and 68% of those deaths were due to an opioid.
In 2018 there was a modest 4.6% reduction in overdose deaths nationally, but estimates for 2019 completely erased those gains. This rebound in overdose deaths is a result of the modest decrease being viewed as a victory and focus shifting away from opioids. Small decreases are only an indication that efforts are headed in the right direction and need to continue.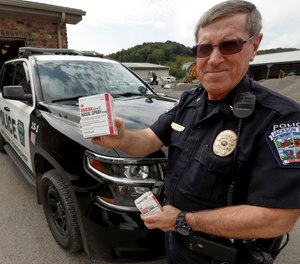 There is still much stigma surrounding substance use and available treatment. The stigma around substance use is a major barrier to long-term recovery from substance-use disorders, and stigma can be overcome through education and knowledge.
In 2019, Purdue University worked with members of its local opioid task force to develop Pathways to Recovery: Training Modules for Opioid Use Disorder. This series was created to meet the educational needs of front-line law enforcement officers and employees who work with people facing substance use every day.
Although we generally think of the front line of law enforcement as police officers, we should note that corrections officers, case managers and even reception staff frequently interact with people who have substance use issues. Anyone who works in the legal or first responder field, as well as the general public, can use these videos as a resource.
Beyond Narcan training
This series is another tool in providing training on substance use with an intense focus on opioids that goes well beyond standard Narcan training. It helps provide knowledge about the entire chronic disease process and treatment options. 
The videos can be incorporated as part of continuing education for law enforcement to improve their ability and confidence when interacting with people who use opioids and their families. Law enforcement officers in Indiana can earn one hour of in-service training certified by the Indiana Law Enforcement Academy by viewing this series. 
Community leaders, law enforcement, recovery leaders and medical providers helped develop the introduction and four modules. The introduction and first three modules provide information that is applicable across the nation. The fourth module presents the local resources of the community in which the videos were created. There is also a community resource assessment guide that can help other communities determine their local assets. 
Funding for the series was provided through a grant from the Health Resources and Services Administration. A local law enforcement agency participated in piloting the videos to assess their efficacy. The staff watched their videos as part of an in-service. They completed a survey before and after watching the videos. The results of this pilot test show that there were improvements in their confidence about their knowledge of naloxone (Narcan), as well as the medications suboxone/buprenorphine and methadone, which are used in medication-assisted treatment (MAT). There was also improvement in their confidence in interacting with people withdrawing from opioids and on MAT. There was a significant change in their beliefs about abstinence-only recovery. 
This series will not end the epidemic of substance use overdose deaths. It does provide comprehensive information about substance use, primarily opioids, opioid use disorder and medication-assisted treatment as part of a comprehensive treatment plan. This knowledge is essential to reducing the stigma surrounding substance use and helping to reduce overdose deaths by facilitating treatment and long-term recovery. 
Author's note: Purdue University is not and has never been affiliated in any way with Purdue Pharma. The pharmaceutical company was founded in Manhattan in 1892 by John Purdue Gray and George Frederick Bingham as the Purdue Frederick Company. Purdue University was founded in 1869 as Indiana's land-grant institution, named for benefactor John Purdue.
---
About the author
Nicole Adams, Ph.D., RN, CEN, a clinical assistant professor of nursing at Purdue University in West Lafayette, Ind., coordinated and produced the video series.